02/08/21
|
Liquid Systems
A Piece of Tropical Paradise
Sandy white beaches, crystal clear waters, palm trees gently swaying in the breeze, wispy clouds illuminated by the setting sun, exotic cocktails…
Ok, before you read on we will allow you to close your eyes for a bit of daydreaming about tropical nights…
Welcome back.
For many people, a holiday on the Hawaiian Islands is a life's dream. And, presumably, this longing has intensified in the past months because of the lockdown in many countries due to the coronavirus.
However, we can bring some light into the gloom – literally and thanks to the artist Doug Bolly, the model makers from White Sword Theming, and the chemical engineers from RAMPF USA.
Get your Kolohe lithophane!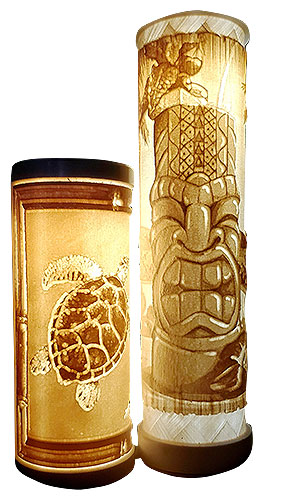 Doug Bolly, Disney Fine Art artist:
This beautiful lithophane lamp brings the serenity and tranquility of the Islands to our customer's living room, office, or bar.
He drew the painting in the classical Tiki style, a culture that started in the 1960s and stands for an "escapist" yearning for life in the tropics. Pictured is a Kolohe motif, which means prankster, rascal, or mischievous in Hawaiian.
In order to transfer each detail of the original painting to the lamp, including every brushstroke and wraparound bamboo texture, the tooling experts from White Sword Theming based in Kissimmee, FL, had to manufacture an ultra-fine closed silicone mold. Into this they hand cast RAMPF's rigid polyurethane resin RAKU® TOOL InnoClearTM OC-5246-3.
Marianne Harris, Sales Manager Tooling Solutions, RAMPF USA:
The resin is specially formulated for castings into tin and platinum silicone molds. It features outstanding light-diffusion properties that further articulate the features of the lamp. Furthermore, the polyurethane system exhibits excellent UV stability, which means that the lamp can be put up outside without being damaged by the sun.
The Kolohe lithophane lamp can be bought via Doug Bolly's web shop. It is available in a classical sepia tone or with changeable color. The 13.5 tall x 4 inch wide lamp features a 3D visual effect and a remote controlled dimmable LED light.
Once your lamp has arrived, we suggest you put on your most colorful Aloha shirt, mix a Mai Tai, and sit on your sofa to watch Magnum, P.I.!
Interesting articles
Technological Marvel Meets Paintbrush – Picasso Would Be Jealous!
It is a technical and architectural masterpiece. Now, the thyssenkrupp test tower in Rottweil also served as an artistic inspiration for the employees of RAMPF Production Systems.
Mixing. Brushing. Coupling. Casting. Tamping. Or laminating.
This blog post shows you what the lay-up method is and the benefits it offers.