Job Opportunities for graduates and professionals
Are you looking for a fresh set of challenges?
Whether you're experienced in your field or just starting out, we can offer you the perfect opening.
Kick-start your career at RAMPF after completing your apprenticeship or degree course. You will be given a focused induction by experienced co-workers, quickly assume responsibilities, and enjoy plenty of scope to develop your own initiative. Lay the foundation stone for your chosen career path.
Already experienced in your chosen profession? Do you feel the time has come to take the next step? If so, it's time we got to know each other and pool our skills to set new standards.
Discover the future with us – take a look at our current vacancies and get in touch!
Not the right position for you?
We're sure you will find what you are looking for !

Can't find anything that fits your needs?
Then we'd welcome a speculative application from you. We are always on the lookout for people with the right personality!
Health management
Whether it is free training in selected fitness studios, regular health days with presentations and workshops, or simply balanced nutrition in our canteen: We ensure that our employees are happy and healthy!
We offer free fruit and water, height-adjustable desks, and ergonomic workplace analyses. This encompassing offer is rounded off with massages and fitness courses during the lunch break, sports events, and sports groups.
Employee development
We promise to "discover the future".
We have been keeping that promise for over 35 years. Every day, we think outside the box, break new ground, and discover new things. This creates new products and solutions – and new growth.
To achieve this, our employees must continuously develop their knowledge and skills. And this is ensured by the RAMPF ACADEMY.
Youth development
As a family-owned company, we are aware of our responsibility as an employer and a member of society. We are active in a variety of ways, mainly in regional projects. We always want to make a contribution to the common good:
Commitment to children in kindergartens and elementary schools
Education partnership with the Schönbein-Realschule and the Dietrich-Bonhoeffer-Gymnasium, Metzingen
Cooperation with the University Reutlingen
BOGY internship
Girl's Day
Sports promotion
Sabbatical
For many people, being able to take a temporary break from working life is an interesting option. This could be to travel the world, study, look after family members, or build a house – there are plenty of good reasons to do so.
We offer our employees the opportunity of taking a sabbatical and returning to work full of new ideas and motivation.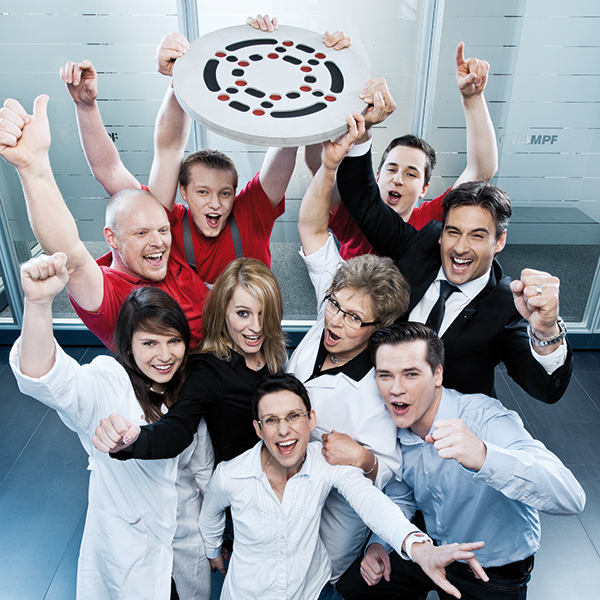 Working at RAMPF
We are doers, thinkers, inventors. And we are looking for employees who can creatively contribute to our projects and drive them forward.
Our collaboration is firmly based on the RAMPF Values and personalized support.
Health management, work-life balance, training opportunities – Our employees are important to us.
Because they do more than just a job. They are shaping the future.
WORKING WORLD
Please apply via our online applicants portal. Take your time in putting together your documents and make sure they are complete. They must include a cover letter, a complete résumé, and relevant school, university, and training certificates, as well as work references.
Be creative and make your application stand out from the crowd. This will spark our interest in wanting to know more about you – because we are looking for discoverers, and they frequently think differently and move in different ways.
Online application
Please apply using our online portal by preparing a cover sheet, an appropriate covering letter, your résumé, and an annex with your certificates (see application tips). You should preferably use Adobe pdf format.
Confirmation application received
You will receive an automated confirmation of receipt by e-mail.
RAMPF looks through documents
We will assess the application internally and pass it on to the relevant departments.
Reply and arranging interview
If your application meets with a positive response, we will get in touch to arrange a personal interview.
1st interview
Interviews can take place in person or in the form of a telephone/video interview. You will be interviewed by representatives of the HR department and the responsible department. The purpose of this interview is to find out more about your personality, capabilities, and qualifications. Naturally, you will also have the opportunity to ask questions and get to know us as a potential employer.
2nd interview
The second interview is intended to reinforce the impression gained during the first meeting with you. We will answer any remaining questions you may have, talk about your future areas of activity, and try to establish whether you will be a good fit for RAMPF. Interviews are normally conducted directly with the relevant department. A representative from the HR department is generally present and possibly also a member of the management team.
Appointment
If you win over the representatives of both departments, you will be offered a contract.
Daniel Braunstein | Area Sales Manager
"At the beginning of 2008 I was traveling around Australia when I got the email offering me a combined studies/vocational training position in Design & Development at RAMPF Production Systems. This gave me an insight into how to produce drawings, use CAD for design work, and develop new components. It was the combination of theory and practice I found most exciting and varied. After gaining my bachelor's degree, I spent two years working in design/technical documentation before deciding to study for a master's at Constance University of Applied Sciences. The opportunity to continue working for RAMPF as a student trainee helped me to pay for my studies. After my semester abroad in Indonesia, I was offered a job as team leader in Technical Documentation and was responsible for this area for two years. Since the end of 2017, I have been responsible for a particular sales area as an area sales manager and are looking after the internationally established customers in this area. RAMPF offers great opportunities to use your own initiative, pursue professional development, and enjoy fair treatment by others. You are both challenged and supported. And the company lives by its corporate values, which cannot always be taken for granted elsewhere."
Jacqueline Bauer| Accounting
"After completing junior high school, I attended vocational senior high technical college, which laid the foundation for my apprenticeship. I completed my training as an office clerk at RAMPF Polymer Solutions. The training was very exciting and interesting, as it showed me the wide range of tasks involved in day-to-day work. Once I qualified, I made a seamless transition to work in Accounting at RAMPF Holding. My duties include processing accounts receivable and accounts payable, which above all involves handling incoming mail, posting and checking incoming and outgoing invoices, processing balance confirmations, and completing transactions. I also make the necessary preparations for the monthly and annual financial statements, and a whole lot more besides. I decided to work for RAMPF because I was very impressed by the encouragement and support the company offers apprentices. Furthermore, I came to identify with RAMPF's corporate values, both during and following my training. The Rampf family lives by these values, which are also clearly evident in the individual departments and influence the entire RAMPF Group as well."
Martin Hämmerle | Director of Application Technology
"I graduated in chemical engineering at Reutlingen University of Applied Sciences in 2001. My particular course on polymer chemistry also included classical engineering, which provides an outstanding foundation for my current range of tasks. I have been Head of Application Engineering at RAMPF Polymer Solutions (formerly RAMPF Giessharze) since 2007. This very diverse field at the interface between development, systems manufacturing, and the customer presents challenging tasks and repeatedly calls for creative solutions. We form the human face of chemistry for our customers in creating visual models, overseeing system trials, and helping them introduce series production. RAMPF's major distinguishing feature is its workforce. Despite the growth we have experienced in recent years and the influx of many new faces, the colleagueship remains very close. This makes meeting challenges and developing new products together with co-workers an exciting and fun task."
Renate Heinzmann | Process Planning
"My name is Renate Heinzmann and I work in administration for RAMPF Machine Systems in Wangen. I trained as a technical product designer. I joined RAMPF in 2006 at the recommendation of a co-worker whom I'd already worked with in a design company specializing in mechanical engineering. After several years in this sector, where I was trained in 3D computer design and ERP, I moved into process planning when it was launched as a new department. My duties at RAMPF mainly involve creating and managing items and parts lists and compiling instructions for finishing, coating, and other production processes. Putting together documents like these, which relate so directly to production processes, establishes a close relationship with products that you could not achieve in a purely administrative role. It also quickly became clear that this job offers challenges and a degree of security that mainly family-run businesses provide these days. What I enjoy most about RAMPF is working in an international company that applies the commensurate level of professionalism (defined procedures, standards, responsibilities, etc.) but without generating the anonymity you so often find in large corporations."
Marc Käufer | Commercial Manager
"I came into contact with RAMPF by chance. During my further training to become an accountant (Chamber of Industry & Commerce), I was informed RAMPF Production Systems, which had only just been set up back then, had a vacancy. As I was on the lookout for a new challenge, this news came at just the right time. Even during the interview, the friendly atmosphere, flat hierarchies, and informal environment made it an easy decision, and I joined RAMPF in August 2004. After a brief spell at the holding company in Grafenberg, I returned to Zimmern in 2012 as Head of Finance and Accounting. In March 2015, I was promoted to the position of Commercial Manager and appointed to the management team. RAMPF provides secure employment in a continuously growing set-up. Its flexible work options mean I have enough time for my family and hobbies (bicycle polo and motorcycling)."
Ralph Lutz | Quality and Security Manager
"I have been a dedicated RAMPF Group employee for 15 years now. It all started with a job ad in the daily newspaper. I had a degree in food chemistry, was a qualified quality manager, and had already been working in the coatings industry for a number of years. In order to take up a new and advanced challenge , I applied for the role of quality management officer in the RAMPF Group. Dynamic growth led to more companies joining the RAMPF Group, and consequently Occupational Health and Safety was formed. I have never regretted my decision to move to RAMPF. The values of fairness, trust, and support form a solid framework that helps us apply ourselves to the best of our ability and use our thirst for knowledge to tackle the challenges we face."
Francesco Mauro | Shift Supervisor Production
"I initially trained and worked as a machine operator for several years before training as a chemical technician. Unfortunately, the promotion I was aiming for did not materialize in my previous company, which led me to apply on the off chance to RAMPF Polymer Solutions. Starting in June 2005, I spent three years as a production worker on all machines before being made a shift supervisor and then shift manager. I particularly enjoy the variety of office work and interaction with employees that this role involves. The team is very friendly and my managers trust me implicitly. I particularly value the family atmosphere that prevails in this company. I really appreciate the way Rampf family members greet all the workers by name when they pass through production. I enjoy going to work every day in these special conditions."
Michael Schulz | System Manager ERP
"After finishing an electrical engineering course at vocational college, I commenced an – as it would turn out: exciting – apprenticeship as an IT specialist in systems integration at RAMPF. My training involved a stay all the company's departments, which offered me first-hand experience with the different systems and how staff use them. Furthermore, I was introduced to all the people using the systems. This 'mingling' proved very valuable, as my co-workers are my internal IT customers who need assistance with their problems and requirements. I show new recruits how to use our systems and run training for new software and hardware. I also manage the interfaces between different programs and act as a project manager for system improvements. It's networking people with other people and systems, rather than networking the systems themselves, that constantly gives me new ideas and inspiration, thus making every day that bit more exciting."
The RAMPF Group stands for engineering and chemical solutions.
Our products and solutions can be found in almost every industry worldwide.