Fully automated bonding solution for exterior car parts
Zimmern o. R., Germany,
09/05/18.
RAMPF Production Systems has developed a fully automated production cell for the bonding of exterior car parts. By combining cutting-edge mixing & dispensing technology, automation, and robotics, both the precision and speed as well as flexibility of manufacturing processes are maximized.
Ultra-fast production processes are a must
Car manufacturers not only measure speed in mph. Moreover, ultra-fast production processes are essential for staying ahead of the competition.
With its holistic production cell concept for the bonding of external car parts such as side panels, rear spoilers, tailgates, and wind blades, RAMPF Production Systems is making a significant contribution for maximizing the precision, speed, and flexibility of production processes.
Dispensing system C-DS
At the heart of the intricate production unit lies the RAMPF dispensing system C-DS. The compact system guarantees for the precise application of the 2-component polyurethane adhesives that bond the parts.
The C-DS encompasses a material conditioning, metering, and mixing unit, PLC controls, and integrated process monitoring. The modular design of the dispensing system offers a high degree of flexibility, as metering pumps and mixing system are easy to integrate into existing handling units.
Poka Yoke process control
Before the adhesive is applied, a quality control system following the Poka Yoke principle verifies that a manual pre-cleaning of the inserted parts has taken place via cleaning sensors.
The production cell can be equipped with FANUC, KUKA, and ABB robots. Conveyor tracking systems enable the robots to identify, pick, and place items on a moving conveyor belt. Depending on the requirements of the bonded part, several robots can be integrated.
Plasma surface activation is integrated for optimum surface adhesion properties; COD is integrated for the rapid curing of the bonded parts.
Customized solutions for leading car manufacturers
"We can adapt this production cell to a wide range of requirements, including joining tools with linear motors, traversing axis for mixing and dispensing technology, and automatic discharging", Stefan Huber, Director of Project Management at RAMPF Production Systems, explains. "On the basis of our standardized technical concept we have already developed several customized production systems for the bonding of parts of leading car manufacturers."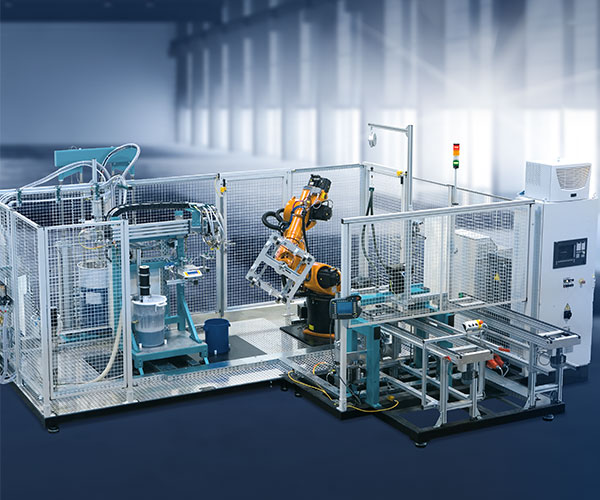 The compact dispensing system C-DS is designed for the processing of 1K or 2K adhesives, resins, and sealants. The modular design simplifies integration into existing production lines.