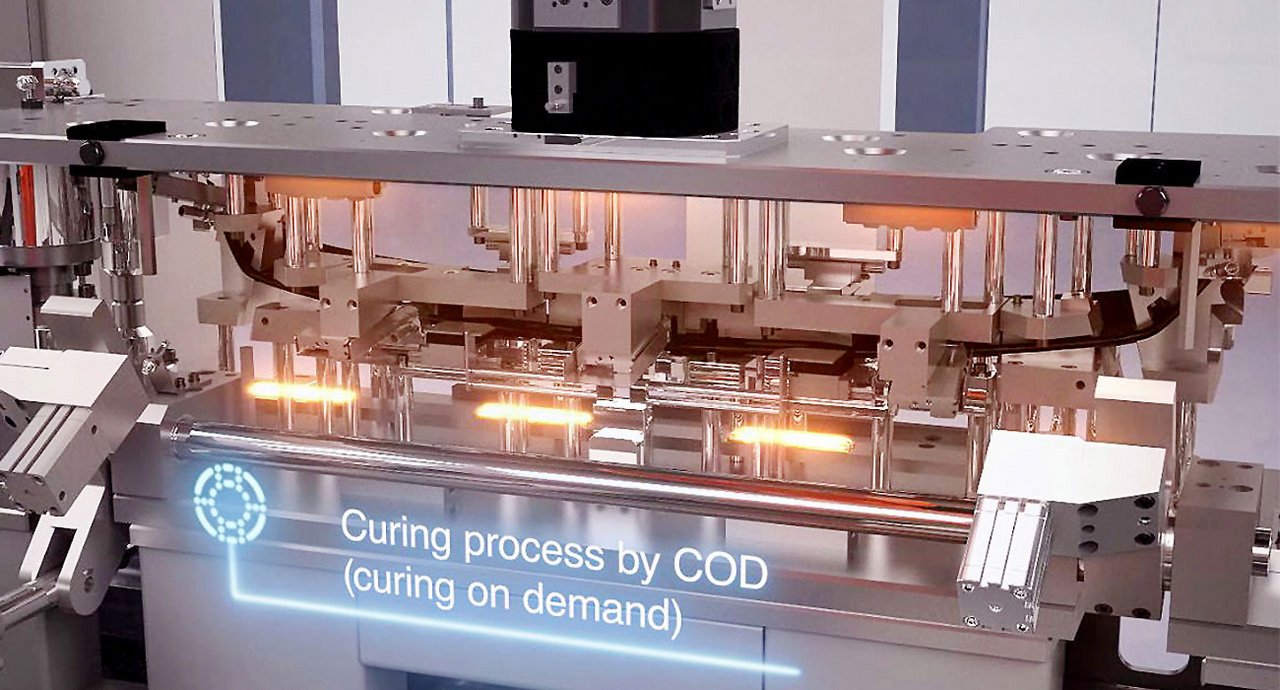 Curing-on-Demand Technology for Automotive Bonding Processes
Wixom, MI, USA,
09/04/19.
The integration of Curing-on-Demand (CoD) technology into joining tools facilitates the fast and reliable bonding of plastic components. RAMPF has developed a fully automated production cell with CoD technology for the bonding of car parts.
High-performance automotive adhesives are designed for high final strength and elasticity. For an effective application process, they must be flowable and precisely metered. To achieve the required adhesion and internal strength, the adhesives require relatively long curing times.
Curing-on-Demand (CoD) technology was developed to reduce both the dwell time in the tool and the number of – mostly very expensive – precision bonding tools. The adhesive is punctually heated from the inside to the outside, making the bond strong enough for the components to be removed from the tool without affecting the quality of the bond.
RAMPF Group, Inc. is a leading specialist for integrated production systems with automated bonding processes. The company based in Wixom, MI, has developed a fully automated production cell for the high-volume bonding of car parts. By combining cutting-edge mixing & dispensing technology, innovative tool-technologies, automation and process control as well as robotics, both the precision and speed as well as the flexibility of the manufacturing process are significantly increased.
At the heart of the production system lies the RAMPF dispensing system C-DS. The compact system insures the precise conditioning and application of the adhesives that bond the parts. The C-DS manages material conditioning, a metering and mixing unit, PLC controls, and integrated process monitoring. Its modular design offers a high degree of flexibility, as metering pumps and mixing system are easy to integrate into existing handling units.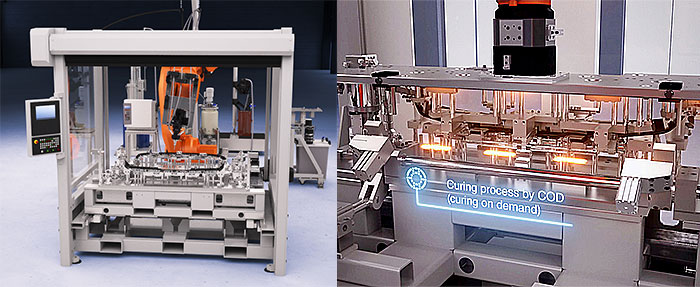 In the automotive industry, RAMPF's bonding cell is used, amongst others, for spoilers, lift gates, engine hoods, roof elements on SUVs and minivans, and bumper assemblies for trucks.
Mike Erby, Division Manager Production Systems at RAMPF Group, Inc.
When bonding components, the curing process is crucial for the quality of the assembled product and also a major cost factor. CoD technology provides a fast and reliable sequence of processes that facilitate the economical and precise bonding of plastic components, which is especially important in automotive series production. One of the major advantages of CoD is that the bonding process is significantly accelerated so that the components are secured in position for further handling. This reduces cycle time, costs, and space caused by the former technology of multiple parts in curing tools waiting to cure.
Visit RAMPF at Assembly Show 2019, October 22 - 24, Rosemont, IL – Booth 2017