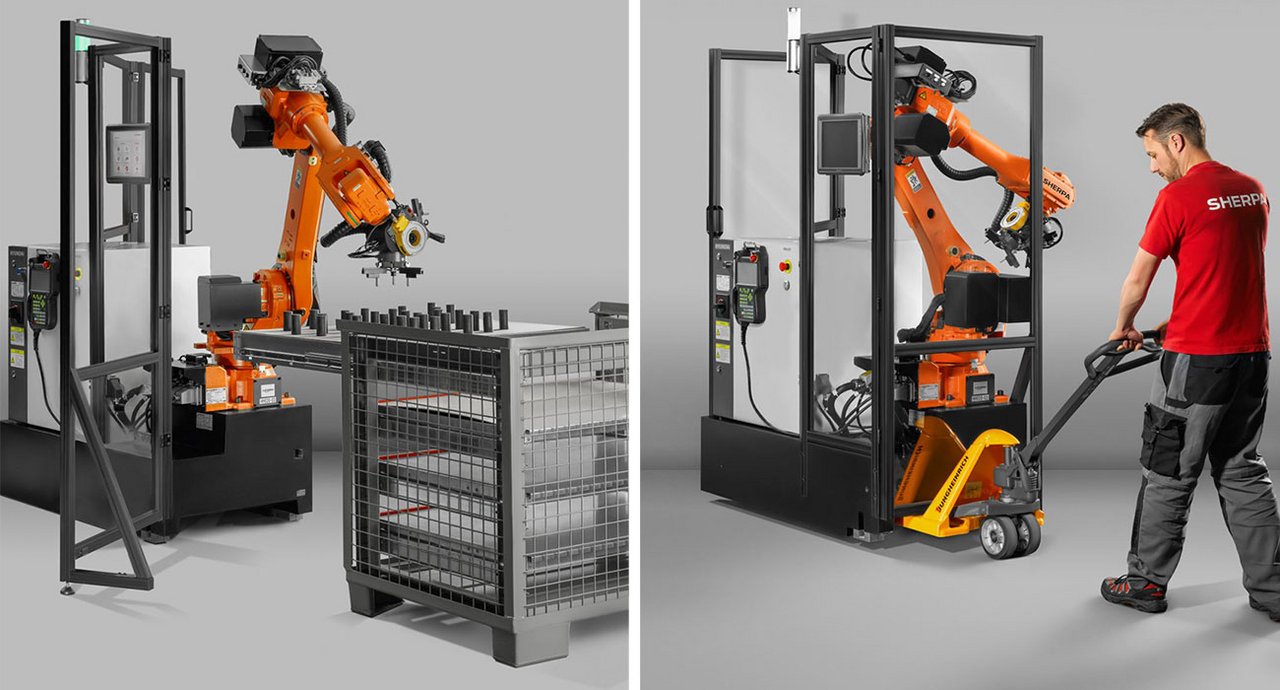 SHERPA Robotics Chooses EPUMENT Mineral Casting
Wangen (Göppingen), Germany,
02/13/19.
EPUMENT® mineral casting is the go-to machine bed material for SHERPA Robotics. For its camera-guided six-axis robot for the automated loading of CNC machines, SherpaLoader®, the epoxy-bonded material ensures the required stability and impresses with its outstanding ecological credentials.
Is it worth it, or is it not worth it? Whether to use automated solutions in the production of small to medium-sized batches is a fundamental question. If the answer is yes, it means venturing into the world of Industry 4.0.
"More often than not, the disadvantages of conventional robotic systems for feeding CNC machines result in a negative answer to this question. These robots require mechanical provisioning systems that are vulnerable and come with high retooling and maintenance costs", says Florian Andre, CEO of SHERPA Robotics.
According to Andre, this problem is especially relevant for medium-sized contract manufacturers who specialize in batch sizes between 20 and 1,000. "On the other hand, fluctuating order intake, shorter delivery times, rising production costs, and a shortage of skilled workers require innovative solutions to make manufacturing more efficient, flexible, intelligent, and less labor intensive. And that speaks for the use of automated solutions also in this line of business."
EPUMENT® mineral casting provides stability and mobility
One such intelligent solution is the CNC automation SherpaLoader®, developed by SHERPA Robotics based in Stuttgart-Fellbach, Germany. By using a digital precision camera system, loading machines and a wide variety of workpiece types are automatically detected without the need for grid plates or magazines.
As a result, the set-up time for a different workpiece is reduced to less than five minutes. Unloading from the CNC machine and loading with the next part takes only 15 seconds. The operability of the robot is simple: Orders are controlled by EasyControl, trained specialists are not required.
Manipulator and cabinet of the SherpaLoader® are bolted on a machine bed made from EPUMENT® mineral casting, developed and produced by RAMPF Machine Systems. Occupying less than one square meter, the unit is both compact and mobile. With a manual forklift, the robot is easily moved to the CNC machine needed for operation.
Julian Schulze, Technical Director at SHERPA Robotics:
We chose a machine bed made from mineral casting as this material ensures the required stability and allows for numerous features to be integrated into the machine bed within a very small space. Furthermore, EPUMENT® is also the material of choice in ecological terms.
Thomas Altmann, CEO of RAMPF Machine Systems:
We are very proud that we were able to contribute to the success of this exciting project. It shows once again how wide-ranging the application area of our high-quality EPUMENT® mineral casting system is and how competitive it is on the markets.
ERROR: Content Element with uid "45361" and type "textBesideImage" has no rendering definition!