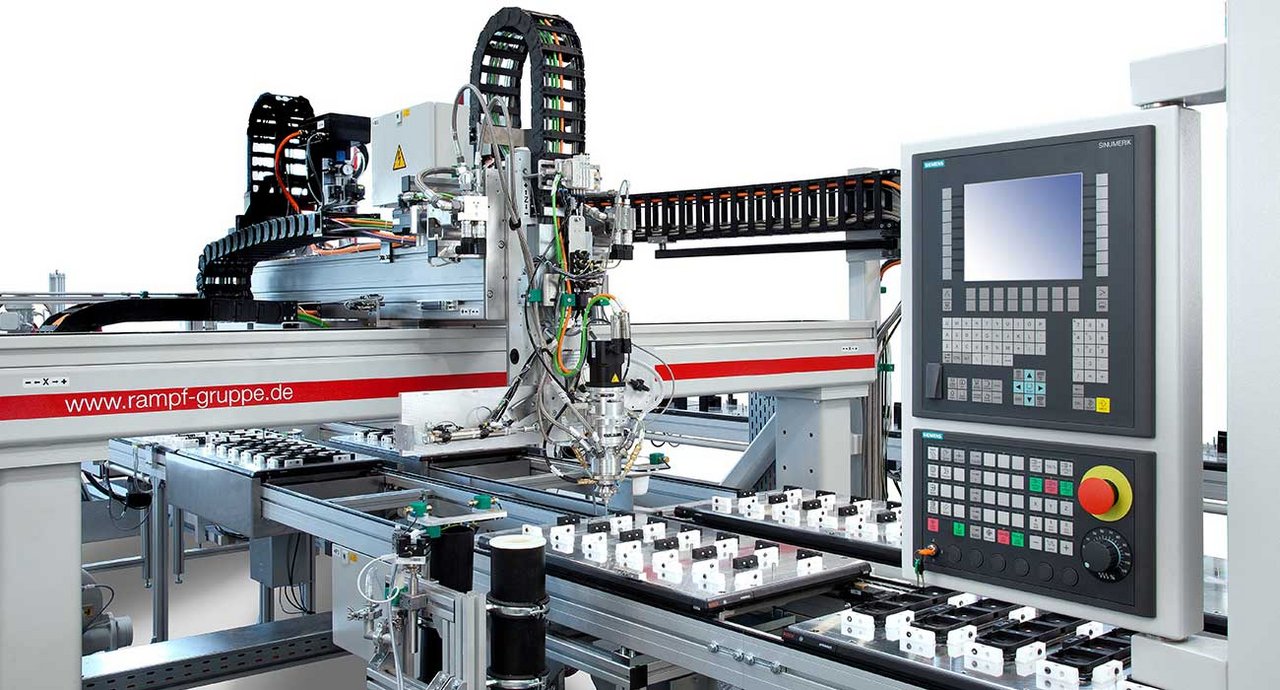 NPE 2018: Engineering and chemical solutions from a single source
Wixom, MI, USA,
04/15/18.
Engineering and chemical solutions from a single source – RAMPF Group, Inc. is presenting its encompassing portfolio of plural component dispensing systems, 1- and 2-component polymer systems, and modeling, tooling & mold engineering materials at NPE 2018 from May 7 - 11 in Orlando, FL – South Hall Level 1 / Expo Hall / S27160.
RAMPF Group, Inc. develops and produces 2-component polymer systems based on polyurethane (RAKU® PUR), epoxy (RAKU® POX), and silicone (RAKU® SIL). The product portfolio includes
Sealing systems based on polyurethane and silicone. Key features include low water absorption, good adhesion, high long-term temperature resistance, and cost-efficient processing. Liquid and thixotropic sealing systems from RAMPF are used, amongst others, in the automotive, energy, household, and packaging industries.
Electro casting resins based on epoxy, silicone, and polyurethane for innovative sealing, casting, bonding, and thermal management solutions for battery housings, sensors, plugs, relays, and on-board chargers. The reactive polymer systems offer a wide range of mechanical, thermal, and chemical properties, meet the highest quality requirements, and ensure greater safety, control, cost-efficiency, and convenience.
Adhesive systems based polyurethane, epoxy, and silicone; thermoplastic and reactive hotmelts. These offer excellent adhesion properties for a permanently secure bond on a wide variety of materials, including plastic, acrylic glass, aluminum, and wood. Adhesives from RAMPF are used in automotive interiors, household appliances, optical bonding, the wood/furniture sector, façades, balustrades, and sandwich bonding for bus roofs, caravans, and refrigerated vehicles, along with many more applications.
The company's experts engineer and manufacture automated, robotic turnkey work cells for sealing, bonding, foaming, and casting single-, dual-, and multi-component reactive plastic systems.
The mixing and dispensing systems improve productivity, quality, cost, and consistency of polymer dispensing, handling, and curing of assemblies.
RAMPF Group, Inc. also offers contract-manufacturing options for liquid gaskets, sealing, and casting out of its Wixom, MI, and Suwanee, GA, locations.
Modeling and mold engineering materials
RAMPF is the leading supplier of customized tooling solutions for cost-effective and high-quality model, mold, and tool construction, which serves the automotive, marine, and aviation industries.
The company's RAKU® TOOL brand includes styling, modeling, and working board materials; Close Contour Pastes, Close Contour Casting, and Close Contour Blocks; and liquid systems for the composites industry that cover a wide variety of production processes and a broad range of temperatures.
The company also produces mercury-free, RoHS-compliant polyurethanes for casting models, prototypes, and low-volume production parts. These exhibit a wide range of handling, curing, and performance properties for use in applications such as
medical and electronic devices and housings
automotive interior parts, under-hood components, and fascia
amusement ride seats and restraints
abrasion-resistant parts and linings
high-clarity lenses and pillow optics
Visit RAMPF at NPE 2018 from May 7 - 11 in Orlando, FL – South Hall Level 1 / Expo Hall / S27160