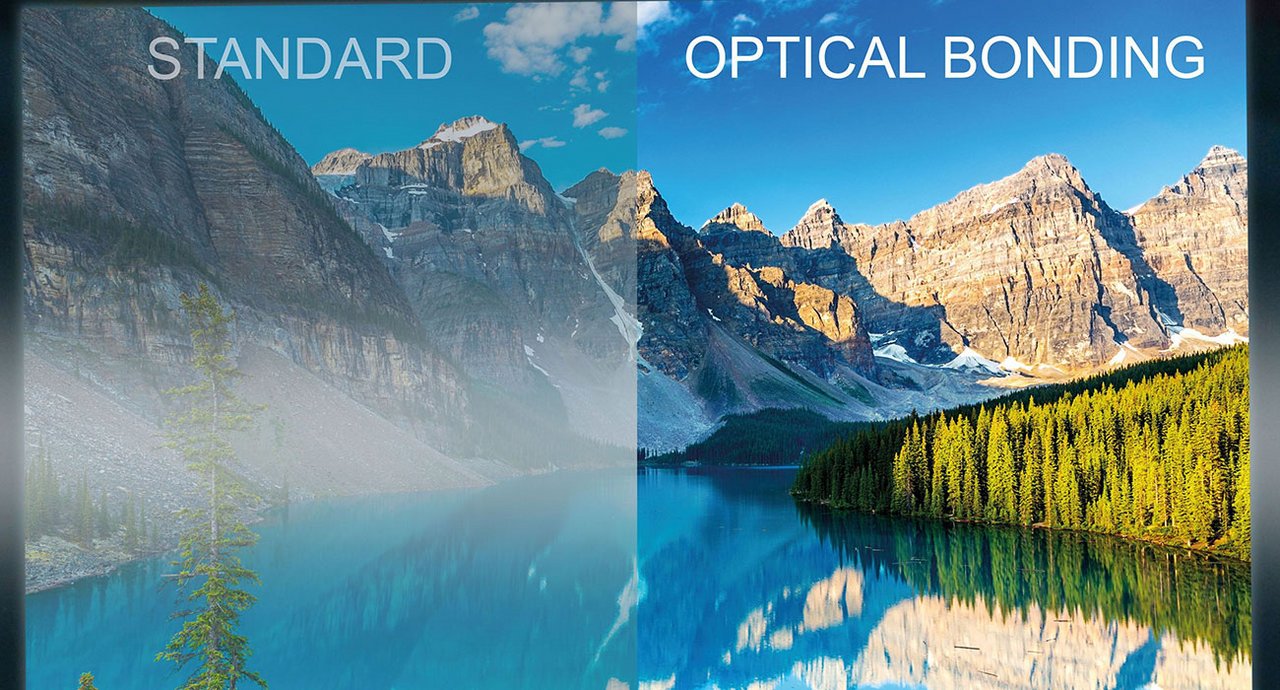 Holistic solution for optical bonding of displays
With a fully automated, partially patented joining method and premium liquid optically clear adhesives, RAMPF Group, Inc. is presenting a holistic solution for using optical bonding technology in displays at SID Display Week 2018, May 22 - 24, LA, CA – Booth 732.
Razor-sharp definition & high durability
In automotive cockpits, mobile devices, GPS, industrial monitors, navigation devices, and wearables, state-of-the-art displays must exhibit razor-sharp definition, clarity, high durability, and extended product life.
To meet these growing demands, RAMPF Group, Inc. has developed cutting-edge processing technologies and silicone adhesives:
> Vacuum application for bubble-free results
RAMPF has developed a fully automated, partially patented joining method that ensures the reliable, bubble-free application of bonding materials with subsequent joining of components. This cuts the scrap rate to nearly zero.
The bonding material is applied in a vacuum and the components are joined in an airless environment. The thin-film degassing technology of the single components makes it possible to process bubble-free bonding material.
Degassing of undercuts and the gap between the frame and display is also performed while the material is being applied. This minimizes the risk of air bubbles being trapped during the joining and curing processes.
The bonding material is dispensed by the RAMPF DC-VAC Vacuum Dispensing System. Designed for processing one- and two-component casting materials, the cell is equipped with material conditioning under vacuum and the dynamic mixing system MS-C.
ERROR: Content Element with uid "25926" and type "textBesideImage" has no rendering definition!
The vacuum chamber has large windows to check and adjust the encapsulation process. Various monitoring options guarantee full process control. The vacuum chamber can be designed for manual or automatic part loading.
The DC-VAC is combined with C-DS gluing units, assembly units, robot systems, conveyor systems, and process control systems to a fully automated, customized production system.
In addition to the display joining method in a vacuum, RAMPF's fully automated production system also features all the operations to bond displays to frames.
> RAKU® SIL Liquid Optically Clear Adhesives
RAKU® SIL silicone adhesives from RAMPF boast outstanding optical and mechanical features:
100% transparency / transmission
Total clarity, very low haze value
Stable color values throughout the entire service life
Varying hardness levels VLRH 20 to VLRH 95
Excellent adhesion
RAMPF adhesives deliver unbeatable value for the money and are optimized for industrial-scale processing on mixing and dispensing systems.
They cure at room temperature and are available in various hardnesses and viscosities (from liquid to thixotropic).
RAMPF Group, Inc. also offers high-class adhesives for attaching displays, frames, supports etc. When used in combination, they are also ideal for the dam and fill process, in which a dam is filled with a highly viscous adhesive that keeps the free-flowing optical adhesive in place and, after joining, also helps adhesion.
Visit RAMPF at Display Week 2018 – Booth 732 (German pavilion)!