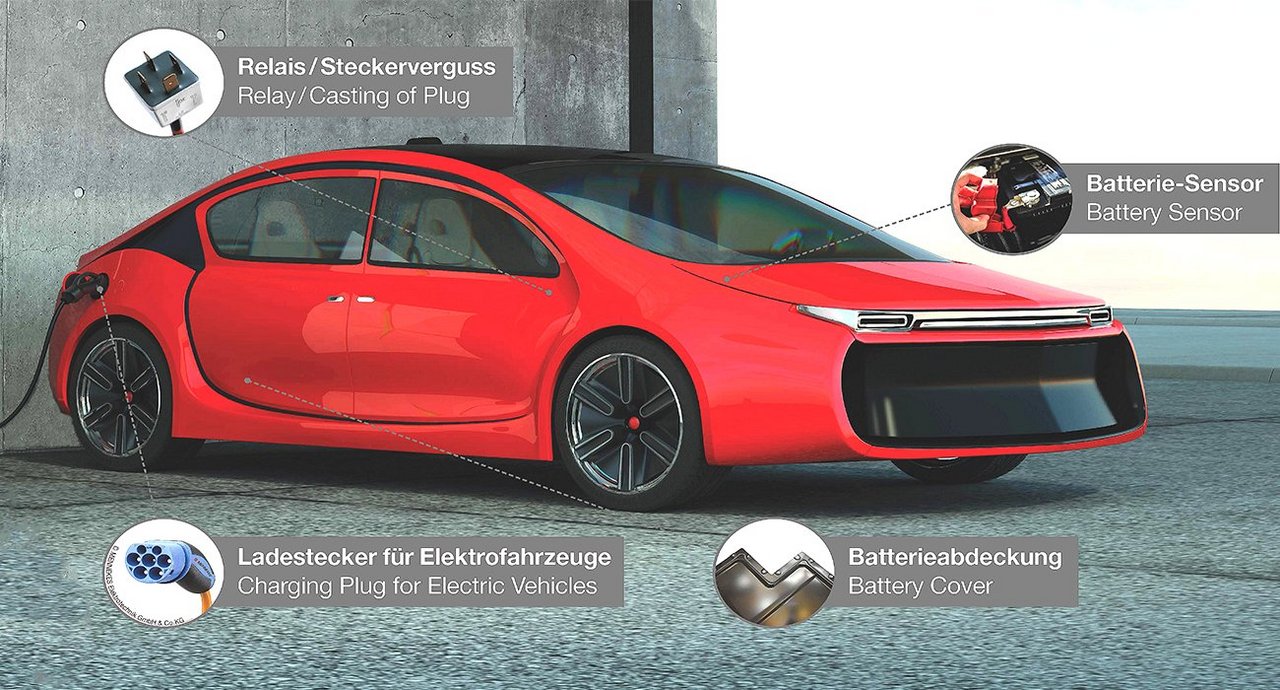 Enabler of electromobility
Premium foam gaskets, electro casting resins, and cutting-edge process technology for thermal pastes – RAMPF Polymer Solutions and RAMPF Production Systems are presenting forward-looking solutions for electromobility at Battery Show Europe 2018 from May 15 - 17 in Hannover, Germany – Booth 252.
RAMPF Polymer Solutions – Electromobility solutions based on polyurethane, silicone, and epoxy
The future of the automobile is electric. Leading experts are convinced of this prediction, and politicians as well as all major car manufacturers around the world are working intensely on its successful implementation.
The speed of the electric revolution is largely determined by the development of more powerful batteries and more efficient charging technologies. "With our foam gaskets and electro casting resins, we ensure that our customers from the automotive industry are in the fast lane," assures Dr. Klaus Schamel, Managing Director of RAMPF Polymer Solutions:
Foam gaskets made of polyurethane (RAKU® PUR) and silicone (RAKU® SIL) meet the strict requirements of the automotive industry, including emission regulations and NVH standards. The foam gaskets are used in a number of applications, amongst others in automotive interior, air conditioning systems, speakers, and other electromobility and automotive components.
Brand new silicone foam gasket RAKU® SIL 37-1210 that cures at room temperature within a few minutes after application. This allows for rapid assembling and saves an entire production step. RAKU® SIL 37-1210 is used especially for sealing battery covers, charging stations, and charging connectors.
Electro casting resins made of polyurethane, silicone, and epoxy (RAKU® POX) with excellent thermal, chemical, and mechanical properties. These reliably and efficiently protect battery sensors and charging stations, charging connectors for electric vehicles, relays, transformers, and many more components against chemical substances and environmental influences such as heat, cold, and moisture.
RAMPF Production Systems – High precision dispensing of thermal pastes
Thermal pastes (gap fillers) are primarily used for power electronic components and in the battery industry. Among other things, they cool automotive electronics assemblies, optimizing heat transfer from com-ponent to heat sink.
Ever higher electrical power densities mean the thermal energy that needs to be transferred and thus the proportion of filler in the thermal greases is also increasing.
Consequently, the highly filled pastes with up to 90 percent fillers place ever-greater demands on the pump system because they are prone to sedimentation and act aggressively on the dispensing component. This makes the choice of dispensing pump crucial to process reliability.
Low-wear KDP piston dispensing pumps for processing thermal pastes from RAMPF Production Systems meet these demands.
ERROR: Content Element with uid "25813" and type "textBesideImage" has no rendering definition!