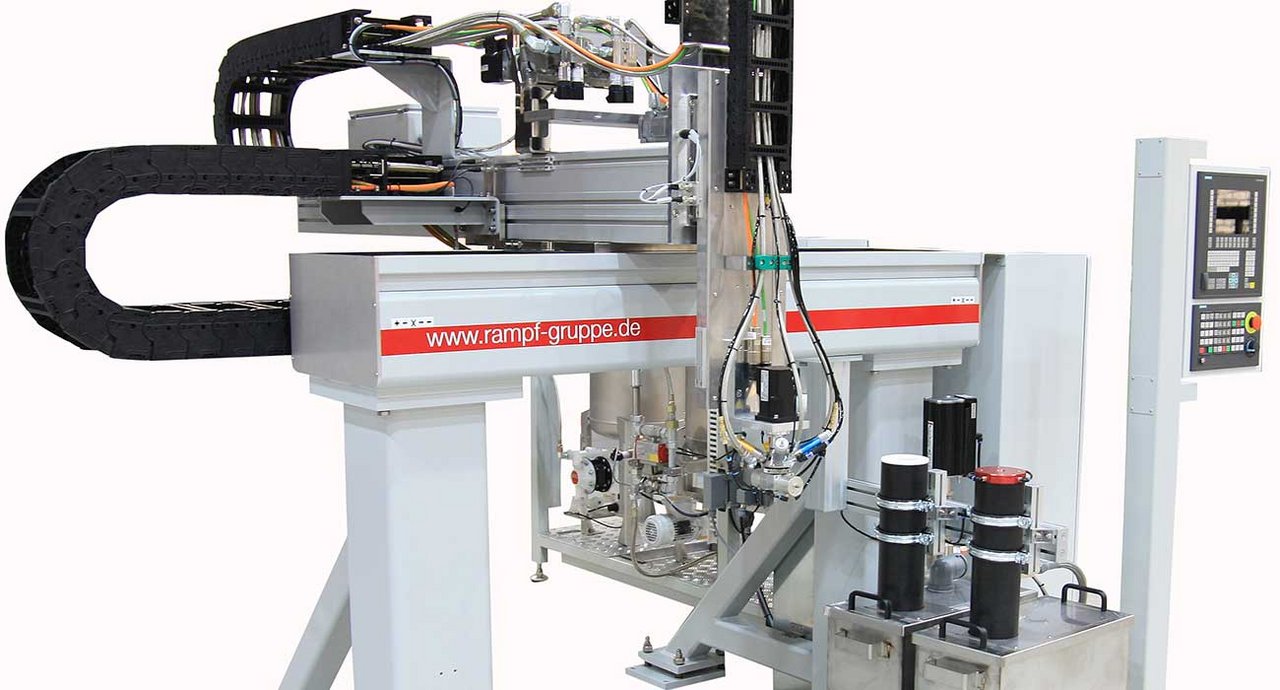 Dispensing robot DR-CNCe at Chinaplas 2018
RAMPF Production Systems and its partner for the Asian markets, Orient-RAMPF Dosiertechnik, are presenting high-performance mixing & dispensing systems for sealing, casting, and bonding single-, dual-, and multi-component reactive plastic systems at Chinaplas 2018 – Booth 2J71.
The highlight at this year's trade fair from April 24 - 27 in Shanghai is the dispensing robot DR-CNCe.
With its variable X-Y-Z strokes, the DR-CNCe offers highest flexibility for the three-dimensional dispensing of sealants, adhesives, and encapsulants.
The DR-CNCe is equipped with ultra-modern CNC technology to combine the mixing and dispensing system with maintenance-free CNC linear axis. The result: best interplay of metering process and axis motion sequences. Furthermore, the modular architecture of the DR-CNC allows for simple and full integration into existing production control systems.
Additional features of the dispensing robot include, amongst others:
High-pressure rinse recycling system / high-pressure water rinsing system
Nucleation controller for air load controls
Material recirculation system and temperature controller
Automatic thin-film degassing for bubble-free casting
Various types of automation equipment (rotary index tables, shuttle tables, conveyor lines, customized automation)
Innovative production systems with integrated dispensing technology
In addition to the core competence of mixing and dispensing technology, RAMPF Production Systems and Orient-RAMPF Dosiertechnik offer product-specific automation concepts with integrated parts transport and heat treatment, assembly and joining technology, as well as logistic and quality assurance solutions.
The customer-specific solutions include integrating both surface activation processes as well as testing and measuring technology to safeguard production processes.
"This wide-ranging expertise enables us to provide our customers in the Asian markets with complete solutions for their production facilities", says Yonny Eom, Business Development Manager at Orient-RAMPF Dosiertechnik.
The company based in Hwasung City, South Korea, is a leading expert for sealing, bonding, and casting applications in the automotive, electro/electronics, and mobile telephone industries.