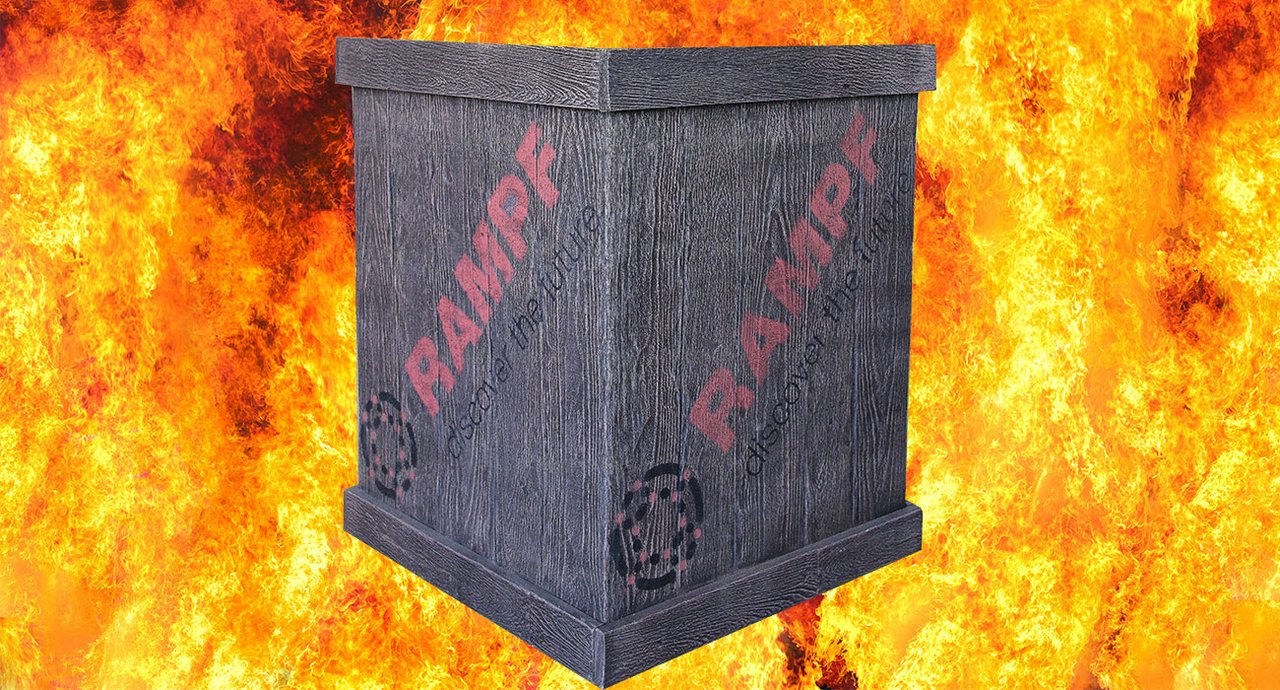 Brand new: Low density sculpting epoxy with E84 Class A Certification
Wixom, MI, USA,
10/22/18.
Flame retardant, lightweight, very easy to process – The new sculpting epoxy RAKU® TOOL EP-2344/EH-2944 with E84 Class A Certification from RAMPF opens up a whole new range of possibilities for the theming industry.
RAMPF Group, Inc. has received E84 class A certification by ASTM International for its sculpting epoxy RAKU® TOOL EP-2344/EH-2944, achieving both excellent flame spread and smoke development values. The new system can now be used for almost all indoor and outdoor applications in the theming industry.
"Compared to similar products on the market, RAKU® TOOL EP-2344/EH-2944 boasts significantly lower density. The resulting lower weight reduces costs and makes handling easier, especially when producing large sculptures and complete theming structures", says Alexander Ege, R&D Manager at RAMPF Group, Inc.
Mixing and processing of RAKU® TOOL EP-2344/EH-2944 is straightforward, as there is no running or sagging. "While other materials are more runny and sticky, our epoxy system is basically comparable to play dough and therefore very easy to apply", explains Philip Klick, R&D Chemist at RAMPF Group, Inc.
RAMPF's new sculpting epoxy adheres very well to metal and fiberglass sub structures and wood. It is easy to sand and paint, and textures can be applied with stamps and molded surfaces without any difficulty.
"With our new sculpting epoxy we will enable the theming industry's creative minds to realize ideas that were previously not possible. We look forward to working on some very interesting projects in the near future", emphasizes Marianne Harris, Sales Manager at RAMPF Group, Inc.
RAMPF at IAAPA Attractions Expo 2018
RAKU® TOOL EP-2344/EH-2944 will be officially presented at IAAPA Attractions Expo from November 13. - 16 in Orlando, FL.
Further highlights at Booth 2073:
A rock-solid rock wall made out of the new sculpting epoxy RAKU® TOOL EP-2344/EH-2944 and the polyurethane board RAKU® TOOL SB-0240. The board has a very fine surface, is easy to machine, and features good heat resistance. The rock wall, which was manufactured by The Companies of Nassal, a leading expert for fabrication and installation of immersive themed environments, also features climbing holds made from a low-viscosity, fast-setting RAMPF polyurethane system that is easily pigmented and features excellent abrasion resistance.
A beautiful stained glass window manufactured with the flame retardant polyurethane resin Inno-FRTM FX-8575, the polyurethane resin RapidVacTM VA-273 for vacuum assisted casting, and the optically clear polyurethane resin InnoClearTM OC-5080. The window was produced by White Sword Theming, a specialist company for themed environments based in Kissimmee in Osceola County, FL.
ERROR: Content Element with uid "42773" and type "textBesideImage" has no rendering definition!