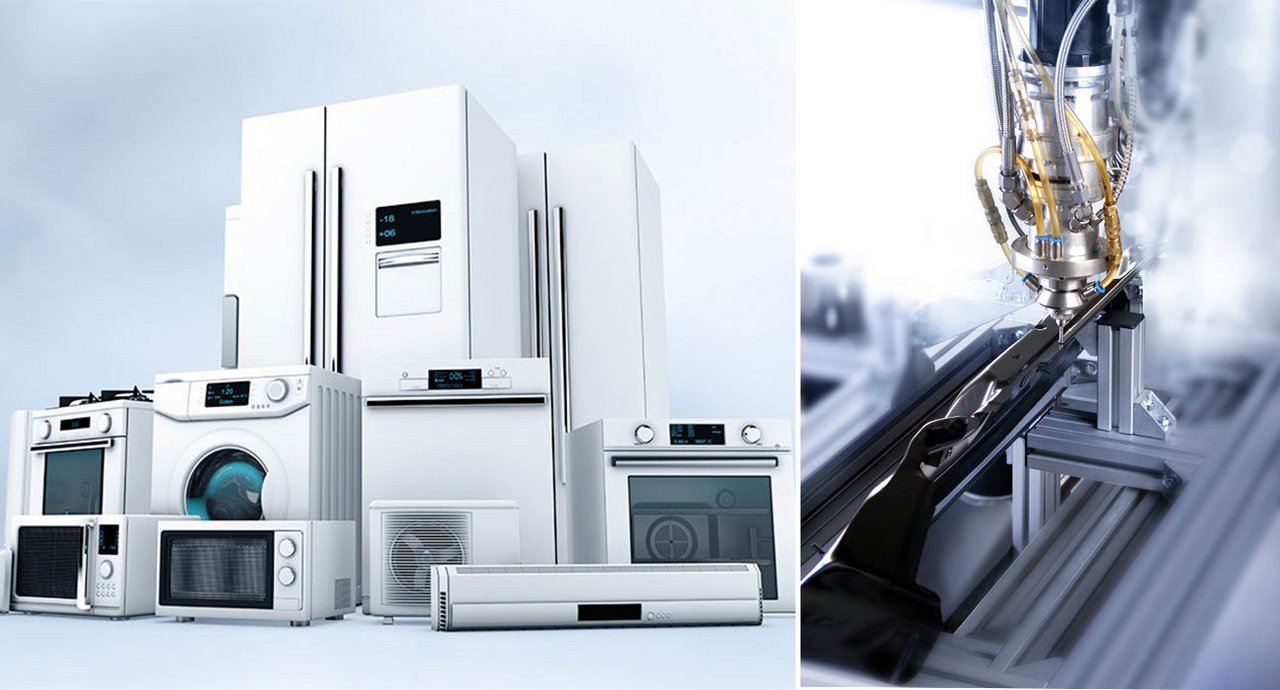 Automated solutions for sealing, casting, and bonding
RAMPF Production Systems is presenting integrated production systems for sealing, casting, and bonding of products in the household appliance industry as well as a fully automated bonding solution for exterior car parts at Fakuma 2018 from October 16 - 20 in Friedrichshafen, Germany – Hall B2, Booth B2-2203.
Integrated production systems for sealing, casting, and bonding of household appliance products
Highest quality, high volumes, ultra-fast station times: Manufacturers of household appliances (white goods) depend on fully automated production processes with maximum effectiveness and speed.
To meet these requirements, RAMPF Production Systems develops and produces both the mixing & dispensing technology as well as project-specific automation concepts for sealing, casting, and bonding of various products and components in the household appliance sector:
Bonding and assembling of ceramic cooktops, oven doors, and control panels
Bonding of microwave doors and steam iron soles
Sealing of control panels for tumble dryers, washing machines and dishwashers, dishwasher tubs, back panels of washing machines, refrigerators, and freezers
Foam molding of HEPA filters for vacuum cleaners
Casting of inductive chargers for toothbrushes
Fully automated bonding solution for exterior car parts
RAMPF Production Systems has developed a holistic production cell concept for the bonding of external car parts such as side panels, rear spoilers, tailgates, and wind blades.
At the heart of the intricate production unit lies the RAMPF dispensing system C-DS. The compact system guarantees for the precise application of the 2-component polyurethane adhesives that bond the parts.
The C-DS encompasses a material conditioning, metering, and mixing unit, PLC controls, and integrated process monitoring. The modular design of the dispensing system offers a high degree of flexibility as metering pumps and mixing system can be easily integrated into existing handling units.
Before the adhesive is applied, a quality control system following the Poka Yoke principle verifies that a manual pre-cleaning of the inserted parts has taken place. For this purpose, cleaning sensors are used.
The production cell can be equipped with FANUC, KUKA, and ABB robots. Conveyor tracking systems enable the robots to identify, pick, and place items on a moving conveyor belt. Depending on the requirements of the bonded part, several robots can be integrated.
Plasma surface activation is integrated for optimum surface adhesion properties; COD is integrated for the rapid curing of the bonded parts.