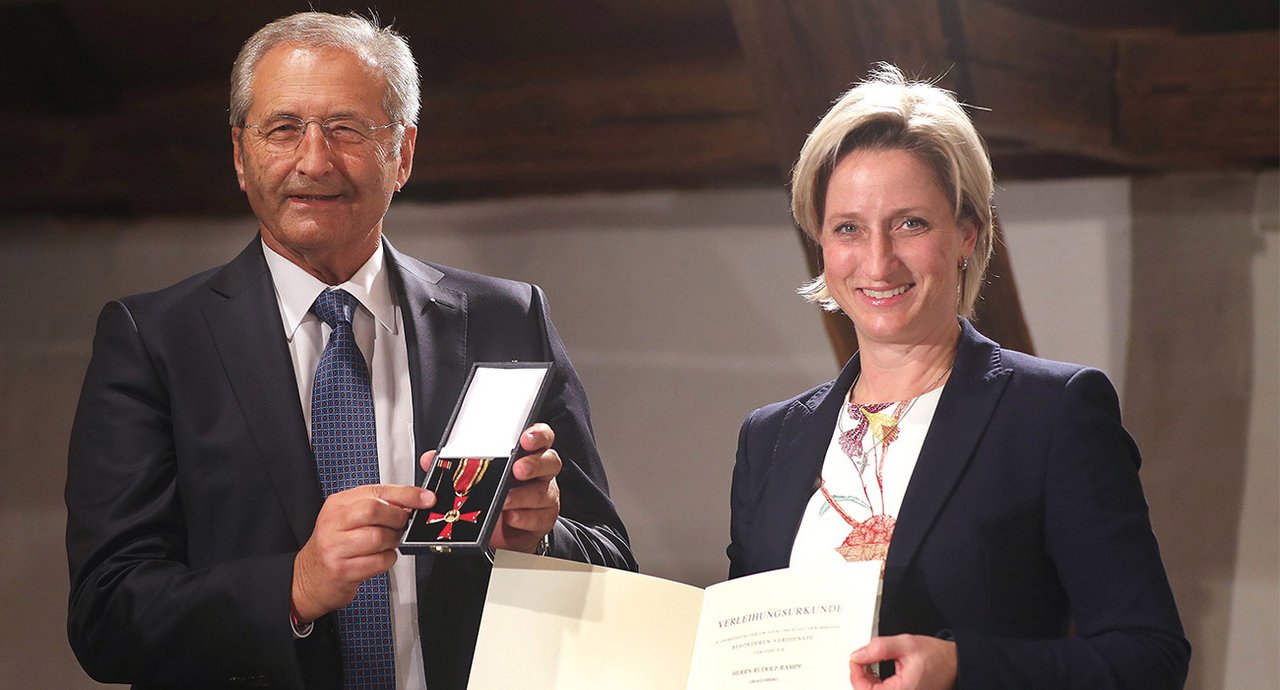 Rudolf Rampf: "Don't just talk – act"
In front of an historical backdrop and a large audience, Rudolf Rampf, founder of the international RAMPF Group, was presented with the German Federal Cross of Merit. Around 200 guests came to the historic Alte Kelter Grafenberg to attend the official presentation by Baden-Württemberg's Minister of Economic Affairs, Nicole Hoffmeister-Kraut (CDU).
"Even though you were born in Austria and brought up in Bavaria, you have created a typically Swabian success story," said Hoffmeister-Kraut at the beginning of her speech, referring to the inventiveness and hard work that are said to be characteristic of the Swabians.
Indeed, a combination of hard work and inventive genius led to a groundbreaking invention at the beginning of the 1980s – the first polyurethane modeling board. This enabled Rudolf Rampf to build his one-man operation into an international corporation that now employs a workforce of more than 800.
Nicole Hoffmeister-Kraut summarized the career of the 72-year-old inventor and entrepreneur, emphasizing "people like you have played a central role in making Baden-Württemberg a strong economic location and a winner of globalization."
INVENTOR, ENTREPRENEUR, ACTIVE CITIZEN
The Minister also highlighted the great importance of family-owned companies, saying they form the backbone of the German economy and are therefore much more than just producers of goods and services. "Family-owned companies represent values, and thus also form a community of like-minded people. This social function is becoming increasingly important in times of weakening social ties. The fact that you have successfully handed over the reins of the company you founded to the next generation in the shape of your sons is even more evidence of your far-sightedness as an entrepreneur."
The speeches by Nicole Hoffmeister-Kraut, former Baden-Württemberg Finance Minister Willi Stächele, and Grafenberg's Mayor Annette Bauer all made clear that Rudolf Rampf had earned his Cross of Merit in recognition of both his outstanding business achievements and his wide-ranging social activities.
WITH PASSION AND DEDICATION
It is evident that Rudolf Rampf is guided by the same principles whether he is acting as an entrepreneur or as a committed citizen. "He is a man of action, he puts passion and dedication into everything he does – whether it be the Rudolf Rampf Foundation for young people in Grafenberg, the water and education project in Angola, or his activities as a local politician and sponsor," said Bauer.
Rudolf Rampf's acceptance speech was typical for the company founder: Instead of focusing on past successes, he preferred to speak about current issues. He called on politicians to support German SMEs, and thus a "value-oriented" business model. "People who run family-owned businesses are liable for their capital, their existence depends on the success of their business. They therefore calculate risk very carefully and think and act for the long term.
A STRONG MAN – WITH A STRONG WIFE
Rudolf Rampf has also been active in the field of development aid for many years. His experiences in Angola in particular taught him that a lasting effect can only be achieved by following the principle of helping people help themselves. "In many African countries, monetary aid does not arrive where it is needed, but in the coffers of corrupt governments. This is why I decided a long time ago to provide on the ground help, including by building a school in Angola."
In his moving speech, Rudolf Rampf called on others to get involved in voluntary work. "Society doesn't work without volunteers. Each individual has the ability to make a contribution to a functioning community. And we shouldn't just talk about it, we have to do it."
It goes without saying that Rudolf Rampf's achievements as an entrepreneur and his social commitment were the focus of the evening's event. "But I would never have been able to achieve all this without the support of my wife Eva-Marion," he emphasized "She has stood by me in good and, above all, in bad times, and was always the strong woman at my side and the firm foundation of our family."
Rudolf Rampf's speech was greeted with several minutes of applause. It was clear that everyone in the room – politicians, family members, RAMPF employees, and Grafenberg locals alike – was thrilled for Rudolf Rampf and happy to celebrate with him.