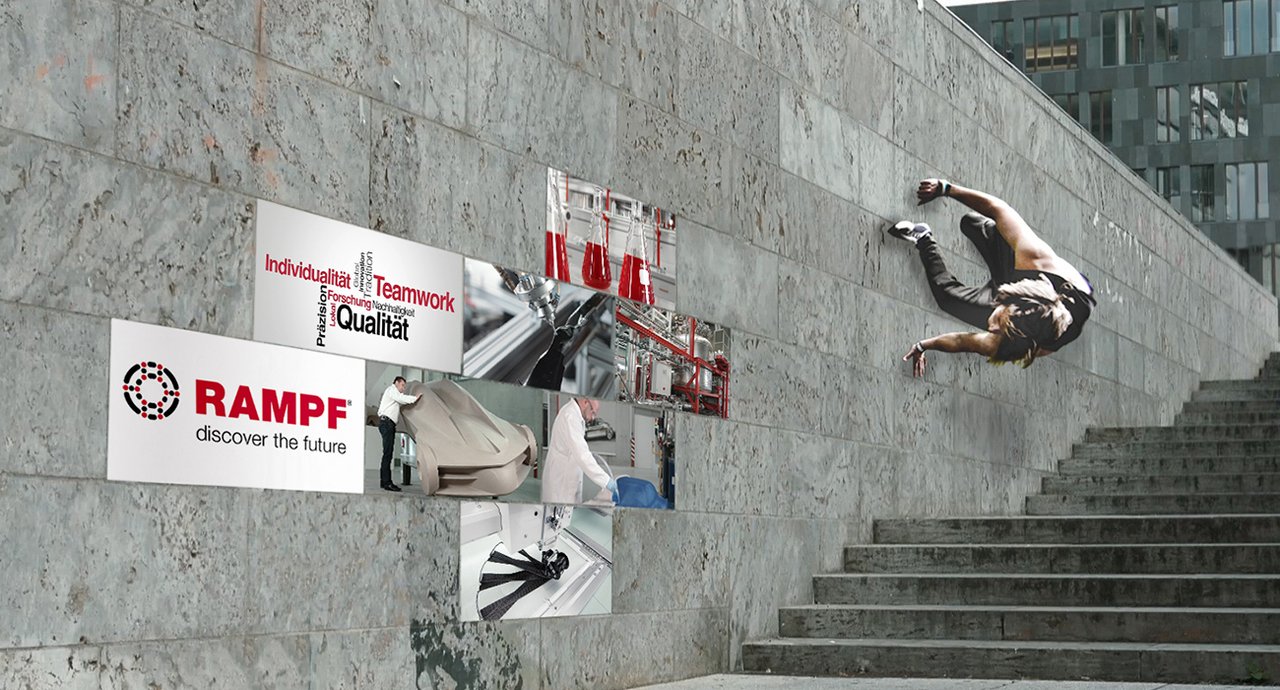 Pass the popcorn, please!
23 days of filming, more than 30 locations, and 1.2 terabytes of data: The company's employees, the film crew, and a "Parcour and Freerunning athlete" gave their all for the new corporate movie which can now be viewed on the RAMPF Youtube channel.
In view of a movie duration of 2:09 minutes, the thought of making popcorn may seem a little exaggerated. But it is worth it – because the new RAMPF corporate movie can be viewed several times without a hint of boredom.
What is RAMPF? How can the story of the international group be told authentically and entertainingly?
These questions were at the center of an exciting project, the goal of which was to create something new and unique. "Short, concise, emotional, and dynamic: That's how we wanted the new corporate movie to be. And I think we can say that we succeeded", comments Nicole Luttenberger, Director of Marketing at RAMPF Holding in Grafenberg.
In an informative and a spectacular manner the movie presents the products and solutions of the RAMPF Group and how they provide key benefits for customers. "We are a global company with six core competencies in the fields of reactive resin systems, machine systems, and lightweight construction with composites. Furthermore, we are active in a wide range of industries. This made it especially difficult to meet one of the most important success criteria of corporate movies – to keep them short", explains Luttenberger.
The film production company artecfilm from Kornwestheim, Germany, skilfully accentuates the products and solutions of RAMPF and its customers. With one exception, only RAMPF employees and the CEOs of RAMPF Holding, Michael Rampf and Matthias Rampf, are in front of the camera. "This gives the movie an authenticity that is very important to us," explains Luttenberger.
There are two reasons for the one exception which are obvious to see in the movie – Parcour and Freerunning.
While Parcour is primarily concerned with overcoming obstacles (e.g. walls, stairs, railings, trenches) as efficiently as possible, Freerunning focusses on the athleticism and acrobatics of the body movements. Andy Haug from Freudenstadt, Germany, ranks among the world's best in both disciplines. With his spectacular moves, the 27-year-old athlete gives the corporate movie a unique dynamic.
"We were very impressed by Andy's creativity and his courage to explore new horizons. These character traits also apply to RAMPF employees and are a cornerstone of the entrepreneurial success of the company", emphasizes Nicole Luttenberger. "Furthermore, he literally runs like a continuous thread through the movie. This way he illustrates that at RAMPF people are always the focus – whether they are employees, customers, or partners."