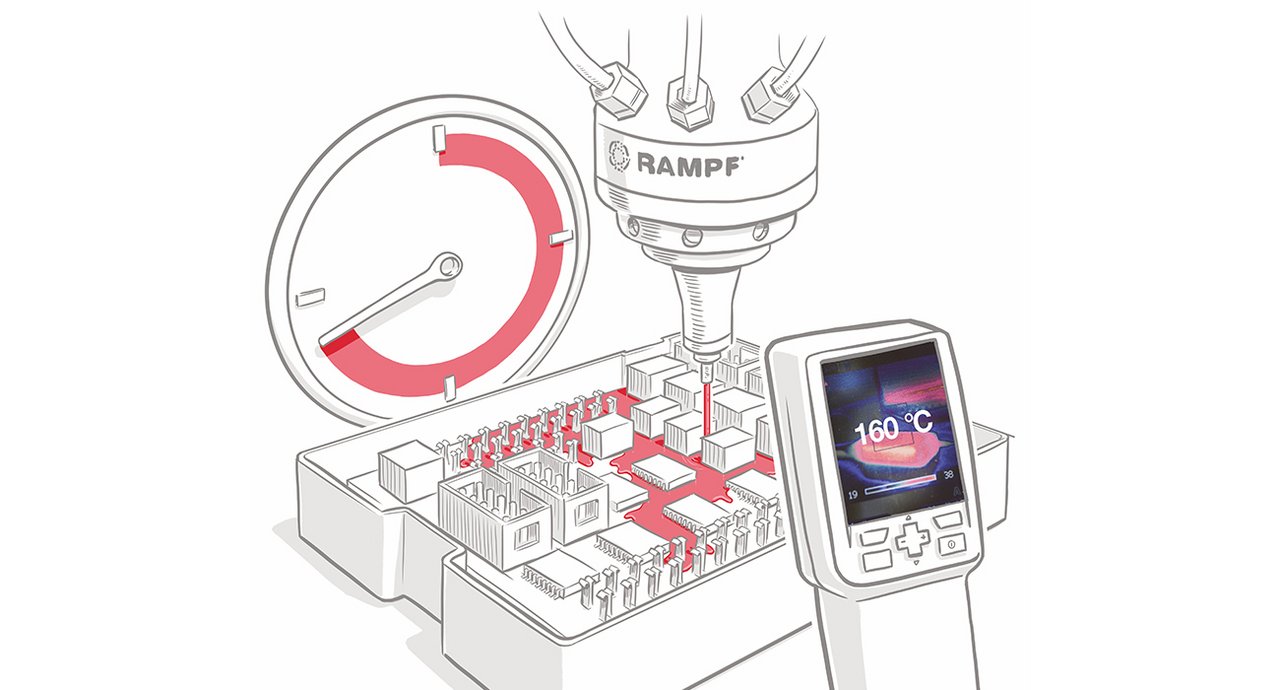 RAMPF optimizes the value creation chain in electronics manufacturing
At productronica China 2016 in Shanghai from March 15 - 17, the international RAMPF Group will be showcasing innovative materials and machinery for casting electrical and electronic components.
RAMPF's comprehensive portfolio of engineering and chemical solutions for casting electrical and electronic components is optimizing the value creation chain for electronics manufacturing – including in China. The Group has been active there since 2004, selling products from RAMPF Production Systems – a leading provider of systems for processing one-, two-, and multi-component reaction resin systems and automation solutions – and RAMPF Polymer Solutions – an international specialist in reactive plastic systems based on polyurethane, epoxy, and silicone.
When the Chinese subsidiary RAMPF (Taicang) was founded in 2007, it began its own production of electro casting resins and foam gaskets using RAMPF Polymer Solutions formulations. "As with all RAMPF subsidiaries, RAMPF (Taicang) also manufactures to the highest quality and production standards," says Fabian Werner, Managing Director of RAMPF (Taicang). "This has enabled us to make our mark on the Chinese market, where there has long been demand for the best products and solutions."
RTI casting resins with high long-term temperature resistance
Electro casting resins from RAMPF provide reliable protection against chemicals and environmental influences such as heat, cold, and moisture for sensitive electronic components in cars, high-precision measuring, monitoring, and regulating sensors, and numerous other electrical components.
Thanks to their outstanding thermal resistance, RTI electro casting resins retain their mechanical and electrical properties, and thus safeguard the performance of electrical/electronic systems – even in extreme conditions. The RTI product range from RAMPF includes electro casting resins with especially high thermal resistance up to RTI 160°C.
"When it comes to electro casting resins, we provide our customers in China with a range of products based on polyurethane, epoxy, and silicone that combine optimum mechanical and chemical properties with excellent thermal conductivity and thus ensure high-performance solutions for a wide variety of electronic and electrical applications," emphasizes Werner.
More flexible, more dynamic – the DC-CNC800 from RAMPF Production Systems
The latest model of this low-pressure mixing and dispensing system DC-CNC800 is the perfect solution for users who need a compact machine design for the two- and three-dimensional application of casting, sealing, and adhesive systems, but are unwilling to compromise on control technology.
When used in the electronics industry, the system ensures the highest level of process reliability, including when applying highly filled heat dissipation materials to electronic assemblies. The system features an integrated material preparation system and can be fitted with piston or gear pumps to suit customer requirements. Further advantages include the CNC Siemens Sinumerik modular control system and integrated process control for continuous monitoring of pressure, fill level, and speed.
As an option, the system can be equipped with a high-pressure rinse agent recycling system, high-pressure water rinsing or various items of automation equipment depending on the application in question. Additional features include standardized operating concepts for shuttle table, rotary index plate, and conveyor feed.
The DC-CNC800 is also fitted with large tanks so that small containers can be filled in a single step, homogenization can be carried out on a more material-friendly basis, and degassing can proceed faster.
The DC-CNC800 can be fitted with the MS-C mixing system for a dispensing output of 0.1 g/sec and above. Vacuum barrel presses for gap filler can also be integrated and accessibility has been optimized for maintenance work on the piston or gear pumps and controls.