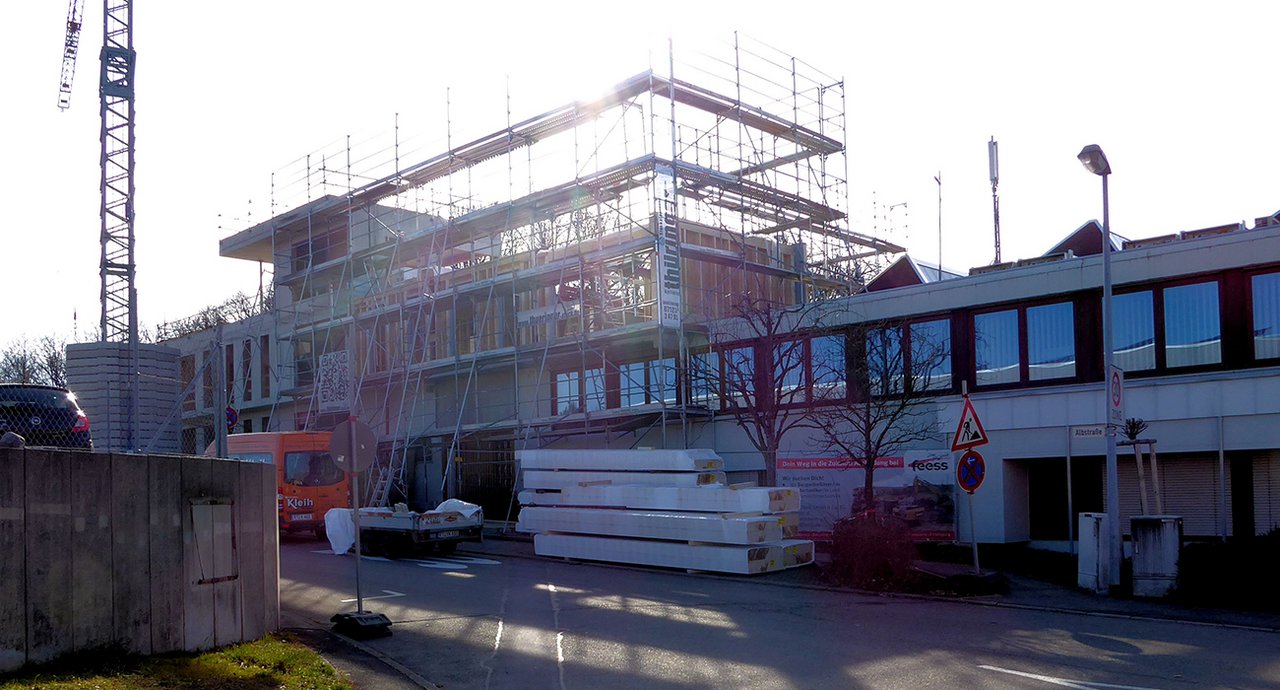 RAMPF celebrates topping-out ceremony in Grafenberg
Numerous guests joined RAMPF to celebrate the topping-out of the new administration building in Grafenberg. Around 35 employees and a spacious canteen will be accommodated in the new building in late summer 2016.
"Another topping-out ceremony was held on this exact spot 34 years ago – for our former family home, the first building that the Rampf family erected in Grafenberg. Today we are celebrating the group's ninth building in Grafenberg and its 17th overall," said Matthias Rampf, the CEO of RAMPF Holding responsible for property, in his speech at the ceremony for the new administration building.
"That is testament not just to the success of RAMPF, but also to our commitment to this location and to our identity as a midsize family company that is firmly rooted in this region."
Room for 35 employees and a spacious canteen
Construction work on the new administration block began in July last year, when the former Rampf family home was torn down. The new building will expand the current capacities of RAMPF Holding and serve as a canteen for the entire Grafenberg site.
Approximately 35 employees from IT, Facility Management, Quality Management, HR and the Legal department will move into new offices there in late summer.
The management team of RAMPF Holding – CEOs Matthias and Michael Rampf, Managing Director Horst Bader and Chairman of the Advisory Board Rudolf Rampf – will also move into the new building. The Holding's current administration block will continue to be used.
Matthias Rampf thanked everyone involved in the build for their efforts, and reserved special thanks for the Grafenberg authorities and Mayor Annette Bauer and for Metzingen-based Wetzel architects for their outstanding cooperation.
New RAMPF production facilities in Grafenberg
It is hoped that construction of the new RAMPF production facilities in Grafenberg will run just as smoothly. As announced in summer last year, the new facilities will help the modeling and mold engineering experts of RAMPF Tooling Solutions meet the greatly increased demand for their board and liquid materials and semi-finished goods quickly and to the highest quality standards.
Once RAMPF Tooling Solutions has moved into the new facilities, the current production facilities will be handed over in full to RAMPF Polymer Solutions, whose customized casting resin systems for sealing, bonding, casting, and coating are also experiencing significantly increased demand worldwide.
Construction work on the new production building is likely to start in the first half of 2016.