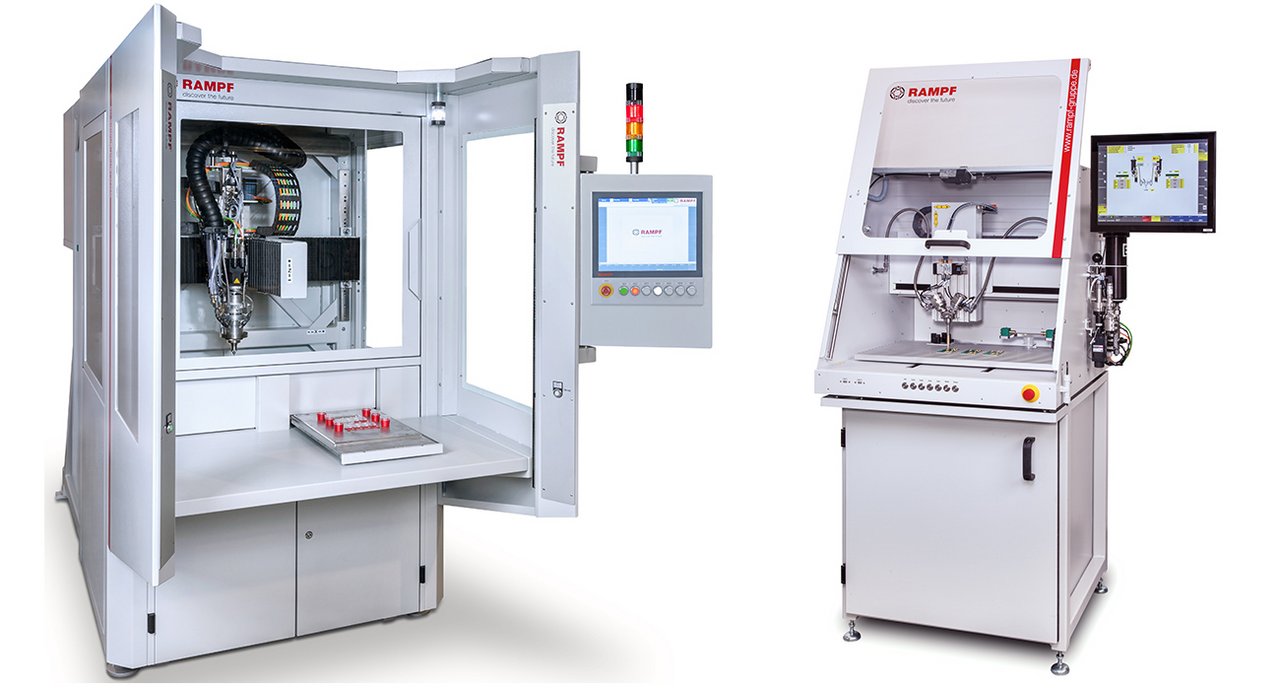 Innovative mixing and dispensing technology for bonding, casting, and sealing systems
At Bondexpo 2016, the international trade fair for bonding technology in Stuttgart from October 10 to 13, RAMPF Production Systems will be showcasing innovative mixing and dispensing technology solutions for two- and three-dimensional application of bonding, casting, and sealing systems – Stand 9203 in Hall 9. The focus will be on the DC-CNC800 compact dispensing cell and DC-CNC250 desktop dispensing cell.
DC-CNC800 – the perfect combination of flexibility and dynamics
The DC-CNC800 mixing and dispensing system is the ideal solution for anyone looking for a compact machine structure without wishing to compromise on control technology. The system features an integrated material preparation unit and can be fitted with piston or gear pumps as required.
A CNC Siemens Sinumerik control system and Beckhoff control technology are available for modular control.
A further advantage is the integrated process control for continuous monitoring of pressure, fill level, and speed.
The DC-CNC800 can optionally be equipped with a high-pressure rinse agent recycling system, high-pressure water rinsing, and various items of automation equipment for the application in question. Additional features include standardized operating concepts for shuttle table, rotary index plate, and conveyor feed. The DC-CNC800 is also fitted with large tanks, enabling small containers to be fully filled in a single step.
The large tanks improve material processing, thus ensuring more material-friendly homogenization and faster degassing. In addition, the DC-CNC800 can be fitted with the MS-C mixing system for dispensing rates of 0.1 g/sec and above; it is also possible to integrate vacuum barrel presses for gap filler. Accessibility has been optimized for maintenance work on the piston and gear pumps as well as controls.
DC-CNC250 – high-precision dispensing of paste-like and abrasive materials
With its DC-CNC250 desktop dispensing cell, RAMPF Production Systems is presenting a cost-effective solution for high-precision dispensing of paste-like and abrasive materials. The desktop device has an integrated dispensing system and can be freely programmed for dispensing individual spots or lengths. The individual components are dispensed using a piston system designed with an extremely long service life. This results in the highest levels of accuracy and long maintenance intervals.
The system can process any standard paste or adhesive that supports static mixing. It has a wide range of additional fit-out options, including a variety of material cartridge sizes and a table frame.
The advantages of the DC-CNC250 at a glance:
Compact design, but still flexible
Desktop device with integrated controls and material supply
Material supply from various cartridges separate from dispensing cell
Good accessibility for maintenance work
High-precision dispensing of small volumes
Processing of 1- and 2-component materials
Processing of viscosities of approx. 100,000 – 700,000 mPa*s
Static mixing system
Fully adjustable mixing ratio from 100:100 – 100:1
Dispensing volumes ? 5 mg / dispensing spot
Processing of highly abrasive materials
Intelligent controls
High-resolution 15" touch display with embedded PC
RAMPF process visualization
User-friendly protection of insertion area with lifting door
Automation and conveying systems
In addition to its core competence of mixing and dispensing technology, RAMPF Production Systems offers its customers an extended range of automation and conveying systems for internal logistics, additional assembly and joining technology, as well as logistics and quality assurance solutions. The customer-specific solutions also include integrating testing and measuring technology into production facilities to safeguard production processes.
"This wide-ranging expertise enables us to provide our customers with complete solutions for their production facilities – including in the adhesives industry," says Hartmut Storz, Director of Sales & Marketing at RAMPF Production Systems.