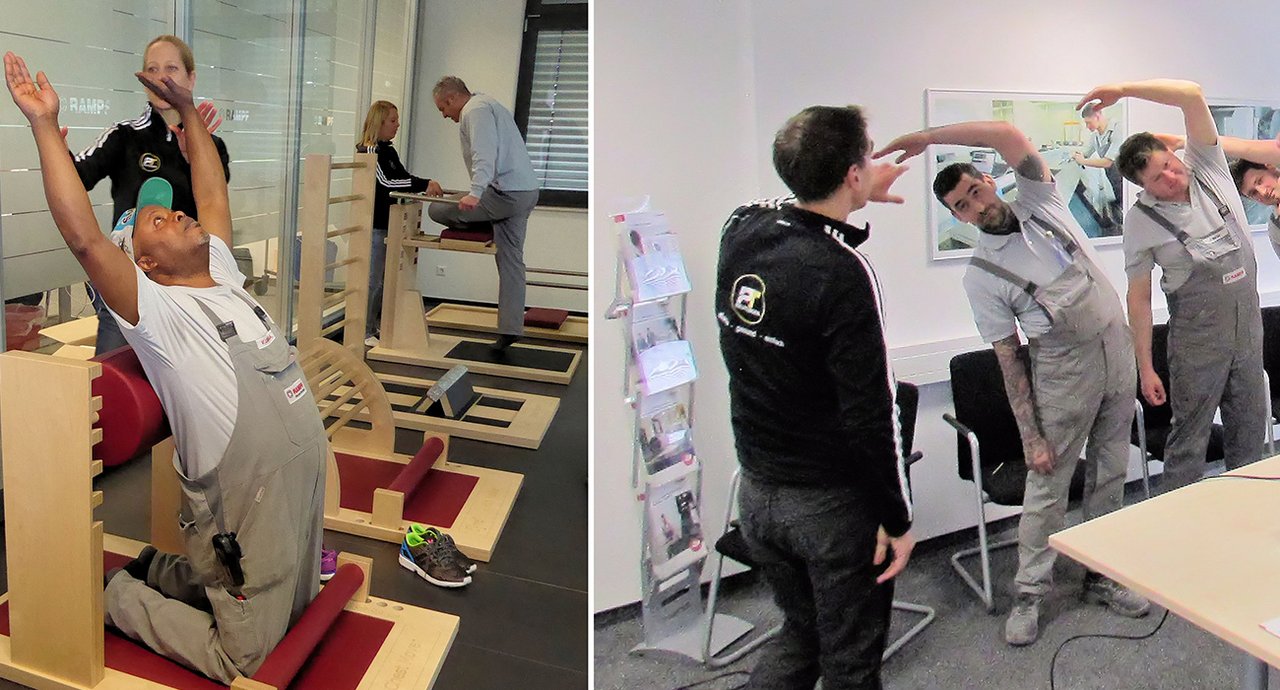 Fit for the future
RAMPF is helping its employees maintain peak levels of fitness, performance and motivation with a Group-wide health management program. This includes regular health-related events and presentations as well as fitness training at selected fitness centers.
"As a family-run business we take a personal approach to how we treat our employees. Together we have written the RAMPF success story, and we're committed to continuing this success together," says Michael Rampf, CEO of RAMPF Holding. "The health of our workforce is very important to us, not least in view of the demographic changes in Germany and the longer working lifetime that is likely to result. We want to help our employees continue to be able to fully contribute their skills and expertise and feel well in themselves in the workplace."
Healthy at and outside of the workplace
The RAMPF health management program aims to improve health, maintain and boost levels of performance, reduce stress and risks, and increase personal health knowledge for employees.
The system is based on three pillars. The occupational health promotion element includes health days with information stands, presentations and workshops, massages in lunch breaks, in-house sports events, mineral water and fruit free of charge. Working closely with cooperation partner PT Fitness Club Reutlingen, RAMPF also offers its employees targeted fitness training at selected fitness centers.
Occupational safety and health protection is also covered comprehensively with offerings such as a company doctor, safety monitoring, preventive occupational medical care, consultations in the workplace as well as training and seminars.
A further component of the RAMPF health management program is occupational rehabilitation management – an offering for employees who have been unable to work for protracted periods. "This forum discusses and develops possible measures to overcome and prevent further inability to work and safeguard jobs," explains Anja Fujan, Head of Human Resources at RAMPF Holding.
RAMPF health day at all German companies
The RAMPF health management program recently had its official launch during the "RAMPF health day" at the Group's German sites – Grafenberg, Zimmern o. R., Wangen (near Göppingen), Bessenbach and Pirmasens. A comprehensive range of topics was covered, from fitness and metabolism to nutrition and combating back pain. The offerings that proved very popular included relaxation exercises, the five® exercise course, blood pressure, blood sugar and cholesterol measurements, and presentations on eating habits and metabolism.
"The health day was a successful start to our occupational health management program. We attach great importance to everyone being able to help shape the offerings from the outset – in a survey sent to all employees, we therefore asked how fit they feel and where they're under pressure, so that we can further expand and customize the offerings in the future," Michael Rampf points out.