01/20/20
|
Sealing Systems
Rigorous Examination!
UL certification – recognized worldwide, compulsory in the US
Underwriters Laboratories (UL) is an independent organization based in Illinois that tests and certifies product safety. Although UL listing is not a legal requirement, it is often a prerequisite, especially on the US market due to the much stricter product liability laws.
However, UL listing is also necessary for many European projects. It also plays an important role for RAMPF Polymer Solutions, in particular for its sealing foam portfolio.
UL listing for sealing foams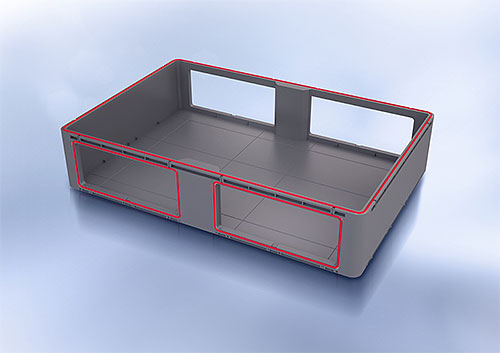 UL 50 defines standards and tests for "Enclosures for Electrical Equipment", i.e. everything that has to do with electrical enclosures, including electrical control cabinets. UL 50 addresses basic, non-environmental mechanical design requirements such as the stability of the enclosure.
However, UL 50 alone cannot be used to attain a UL Type Rating. For sealing foams, this is only possible in combination with a UL 50E listing. Here, additional environmental influences are taken into consideration, such as protection against water, oil, dust, and dirt. Only when the product also meets the requirements of UL 50E, UL Type Ratings are awarded.
Many of RAMPF's sealing foams are used in control cabinets and are therefore UL 50 and UL 50E listed. This also includes the new sealing system RAKU® PUR 32-3294, a semi-thixotropic, two-component system based on polyurethane that is made up of a filled A-component and an isocyanate hardener B (MDI).
The system exhibits the following properties:
Fast curing time with delayed start time (Speed Technology)
Robust integral skin
Very low water absorption
Very high mechanical strength
RAKU® PUR 32-3294 adheres very well to painted and metallic surfaces, which makes it suitable for both indoor and outdoor applications. As the sealing foam fulfils the requirements of the control cabinet industry, it has also been UL 50 and UL 50E listed.
Hot stuff – measuring the fire behavior of sealing foams
Measuring the fire behavior of sealing systems is particularly important, as foams are usually highly flammable. In order to achieve the required fire classification, foams usually require a high amount of flame retardants. There are several ways to determine the fire behavior of a sealing foam.
One of the most important is UL 94, which classifies the fire behavior of solid materials, films, and foams. The test procedure involves the foam being flamed with a Bunsen burner. A cotton pad is also placed underneath the test specimen. Depending on the dripping and ignition of the cotton pad, the following classification is issued:
UL 94 HBF, burning rate < 125 mm/min
UL 94 HF-2, extinguishes immediately after removal of the flame, but drips
UL 94 HF-1, extinguishes immediately after removal of the flame, does not drip
FMVSS 302 for sealing foams in the automotive industry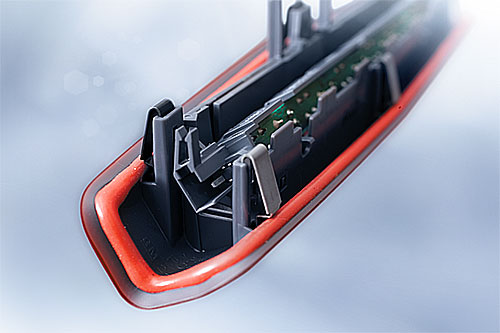 Interesting articles
Indoor, Outdoor, Offshore – Control Cabinets Must Be Tightly Sealed!
Control cabinets are extremely important for modern processes and production facilities. And that is why they must be reliably protected – by high-performance sealing foams made of polyurethane and silicone.
FIPFG and FIPG are on the fast track
FIPFG and FIPG for the Automotive Industry