A World of Pioneers – RAMPF at K 2019!

RAMPF Polymer Solutions is also presenting its range of one- and two-component polyurethane adhesives, two-component epoxy adhesives, and reactive hot melt adhesives.
Bonding is regarded as the key technology of the 21st century, as it has clear advantages over other joining processes. However, the requirements for industrial adhesives are high – perfect adhesion and flexibility at the same time, high temperature and chemical resistance as well as high mechanical resistance.
The adhesives of the RAKU® PUR, RAKU® POX, and RAKU® MELT brands have already proven in numerous applications that they more than meet these requirements. Whether in the automotive sector, household appliances, sandwich elements, or assembly adhesives: Together with you we will develop the best adhesive system for your application.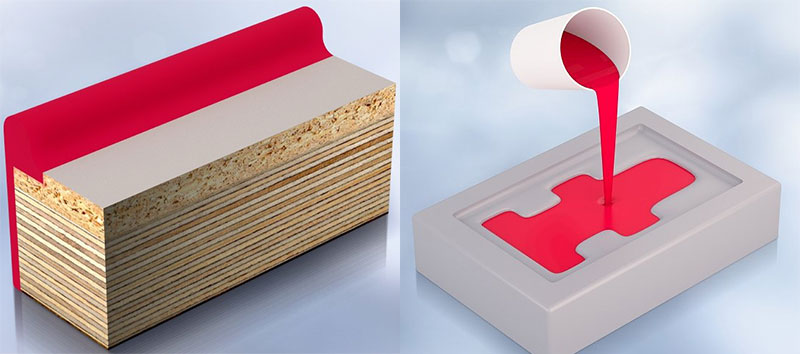 At RAMPF Polymer Solutions, C.A.S.E. stands for heavy-duty elastomers, tailor-made casting compounds, and innovative reactive resins. The customized systems of the RAKU® PUR, RAKU® POX, RAKU® SIL, and RAKU® MELT brands are used in a variety of applications:
In the filter industry, two-component systems bond the filter end plates to the filter medium. This is where casting systems with good flowability and adhesion properties as well as high chemical resistance are required.
Thanks to their outstanding mechanical properties, the casting systems for wetcast molds facilitate the production of molds and structures for surface replication, model (clone) production, or wet mold production.
Doors, furniture and training carriers in hospitals, schools, kindergartens, and laboratories are protected by edge casting systems made from RAMPF construction resins. The edges of doors and furniture are permanently protected from mechanical damage, thus significantly increasing their service life.
An efficient adhesive is required for the corner angle bonding of aluminum windows and doors. For this, RAMPF Polymer Solutions has the best product – its two-component polyurethane adhesive.