Talking TUSSIES & RAMPF
The current handball season is in full swing and next up for the TUSSIES is the local derby against Frisch Auf Göppingen. In the "Sponsor of the Day" interview, Marlene Zapf and Michael Rampf analyze the season so far, give their views on the squad's development, evaluate the sponsorship situation, and also take a look behind the scenes.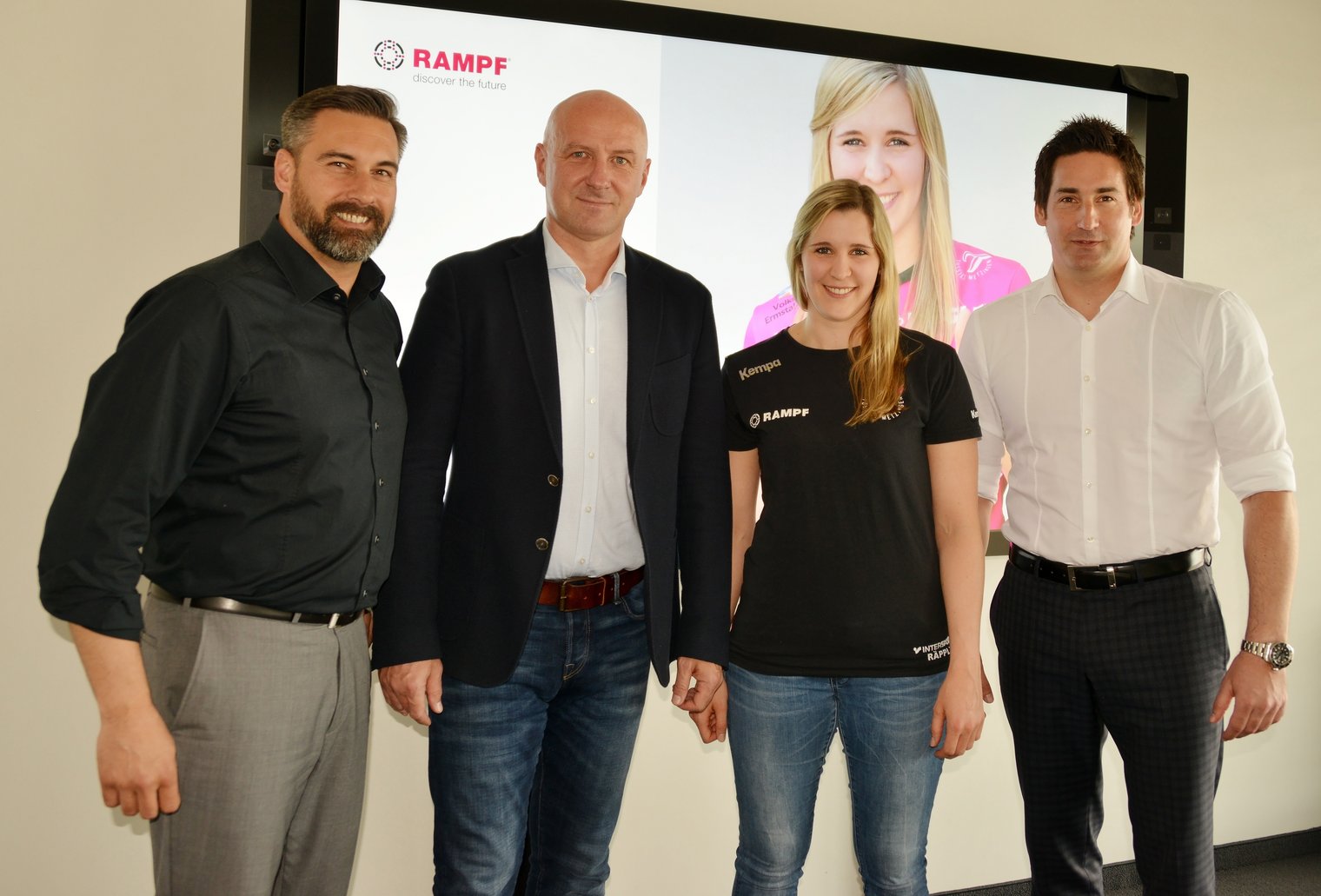 Following their rapid rise up the standings in recent years, the fifth-place finish in the 2017/18 season was a slight setback for the TUSSIES in sporting terms. Despite that, RAMPF signed a new three-year sponsorship deal and even increased its financial support. How did that come about?
Michael Rampf:
Sporting achievement is one thing, but it's also worth considering how the TUSSIES themselves have developed. Quite clearly, the club has become more professional and progress has been made with the TUSSIES brand. Even when the team isn't doing quite as well, the TUSSIES provide a positive climate for us to showcase our company very effectively. And everyone should know that sport has its ups and downs.
As a player, were you aware of RAMPF's decision? Do you follow what's going on away from the court?
Marlene Zapf:
Of course I knew about RAMPF extending its sponsorship. I was even there when the contract was signed. If that hadn't been the case, we naturally also find out about such things from Ferenc [Ferenc Rott, Managing Director of TUSSIES] and the media. It goes without saying that we know sponsors are vital, so we're delighted to hear about this kind of thing.
In November 2018, following the extension of the sponsorship deal, Marlene followed suit and extended her commitment up till 2021. That means the player patronage with RAMPF will also continue. What's your assessment of this sponsorship opportunity so far, and what else is planned?
Michael Rampf:
I'm delighted that the patronage arrangement gives the sponsorship a human face. I think the video to energize fans before home games is a great idea, and we'll no doubt be equally creative for the new season. It's important to us that Marli has been with the TUSSIES for some time now and is continuing her commitment to the club. It also makes her the perfect fit for us. Her other social activities in Metzingen are a further plus. And I have to admit, I initially had no choice but to select my son's math and sports teacher for the patronage (laughs).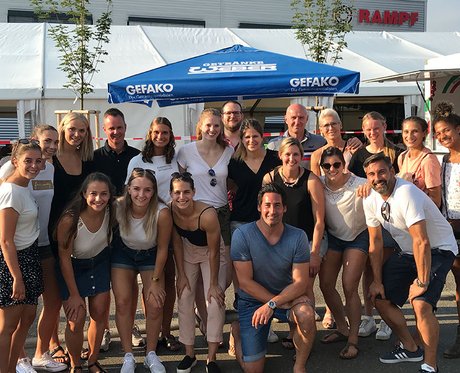 Marli, what do think of having the RAMPF name on your arm for another two years? Do the team members mind who sponsors which player?
Marlene Zapf:
It goes without saying that I was delighted when RAMPF extended the patronage for a further two years. We've worked very well together so far, and I always enjoy my visits to the company. The relationship between the RAMPF management team, the club, and myself is excellent. That's definitely something you can't take for granted.
Sponsorship is without doubt on the players' minds in the summer. When we get our training kits at the beginning of the season, we see who is sponsoring each of us and if anyone is without a sponsor. We do talk about it and wonder who might be behind the various logos. It's obviously something completely different, especially for the new signings.
In addition to contract extensions, there have unfortunately also been a number of departures this season. All in all, the team will be facing quite an upheaval. How do the sponsors view this?
Michael Rampf:
A certain amount of fluctuation is normal in professional sport. After all, the team needs to develop. It goes without saying that some people associated with the TUSSIES are a little more critical of such changes, but we aren't as involved in squad planning as those in charge at the club. I think a little more understanding is sometimes called for.
Personally, I do think it's a big shame that a number of key players are leaving despite the fact that something is really taking shape in Metzingen right now. But, as I said, we're talking about professional sport, so I can understand the financial incentive of offers from other countries. If the offer comes from within Germany, on the other hand, I find it harder to comprehend.
You extended your contract very early on. No doubt you were hoping others would follow suit. Thinking back to November, what do you now make of your decision? And what do you think of the "new" team?
Marlene Zapf:
Delaila and I set a clear example and committed ourselves to Metzingen. And we naturally hoped the others would follow suit. As Michael has already said, though, we're talking about competitive sport and that means the financial aspect also plays a role. I do think it's a shame that the team is now breaking up to a certain extent – I believe that together we could have taken things to the next level.
Personally, my decision would still have been the same, though. I feel at home here – at the club and in Metzingen. I trust Ferenc to put together a very good team for the new season as he's always done in the past, so I'm looking forward to it and I'm excited about what we can achieve.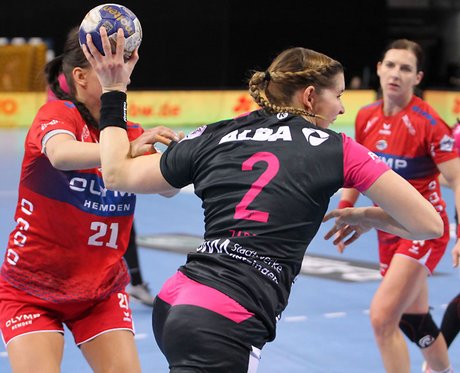 The next match is against Frisch Auf Göppingen – a club that RAMPF also sponsors, albeit the men's team. It should be clear enough today who you're supporting, though, shouldn't it?
Michael Rampf:
The team in PINK!
We don't want to be sponsoring two clubs in the same league, which is why we support the Göppingen men's team. We have a plant with a workforce of 130 in Wangen, near Göppingen, and they naturally very much appreciate us having a partnership with their flagship club. The same obviously applies to staff in Grafenberg as regards the TUSSIES.
You lost your last home game against Göppingen. Does that still have implications for this derby game or aren't you thinking about it at all?
Marlene Zapf:
We haven't forgotten it, of course, but the current season is nothing like the last one. We're in a totally different position in the league and we also won the away fixture. However, we obviously know what the Göppingen players are capable of. They have an excellent defense, but we're going into the game in a very positive frame of mind and want to win.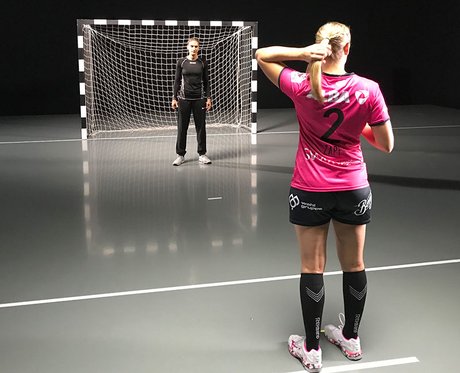 RAMPF has very close links with handball. In addition to Metzingen and Göppingen, you also sponsor teams in Balingen and Neuhausen. Why is that? Why aren't you involved in soccer to the same extent, for instance?
Michael Rampf:
Sponsoring top-class sport forms part of our employer marketing strategy. We always bear in mind the sports focused on by the media in the vicinity of our sites. Handball is the clear leader in the Erms Valley. It's also the only sport Göppingen really cares about, and our plant in Zimmern is close to Balingen, where handball and ice hockey are both very popular.
Apart from that, though, we're also involved in other sports, including local soccer clubs and, in Metzingen, athletics. In most of these cases, sponsorship is a way of demonstrating our corporate social responsibility in a particular region.
But I must admit handball is very important to me personally and I really enjoy watching it.
You now know RAMPF a little better, having visited the company a few times and attended the summer festival every year. What impression have you gained?
Marlene Zapf:
The team goes to the summer party every year, so that naturally gives us an insight into the company. You definitely see it's a family company and that there's a great staff vibe. I've been to the canteen and the employees are well catered for. I'm also familiar with the management team, and you really get a sense of their passion for their employees and the company.
Michael, you obviously know the company even better than Marli. Can you perhaps tell us a little bit about what RAMPF does and what makes it special?
Michael Rampf:
We are a family SME specializing in products and solutions for reaction resins, machine systems, and lightweight construction using composites. From our headquarters in Grafenberg, we're now represented worldwide by our branches, partners, and over 880 staff. We feel it's important to have a partnership based on trust in everything we do. I think that – together with our innovative strength – lays the foundation for RAMPF's long history of success.
Marli, you're now in your third year as an elementary school teacher in Metzingen. Many of your students must know you play handball. Do you come across some of them at matches?
Marlene Zapf:
Yes, lots of the kids know I play handball. We often talk about it after the weekend, of course, and they like bringing in newspaper articles from time to time. Some students, including children from other classes, regularly come to games and report back to the others on Mondays. A number of my colleagues come along, too, and it's obviously great to have their support.
RAMPF has been active on social networks for a few months now, including posts about its partnership with the handball teams. What's the aim of this?
Michael Rampf:
We are looking to get RAMPF noticed even more – including by potential new recruits. It gives us another platform to strengthen the RAMPF employer brand, but also to explain exactly what we do and what we stand for.
You sports stars are all active on social media. Your RAMPF clip has been published on a number of channels. What has the response been like?
Marlene Zapf:
We've had a huge, positive response. Lots of people I hadn't heard from in ages have been in touch, for instance. That demonstrates the clip's extensive coverage.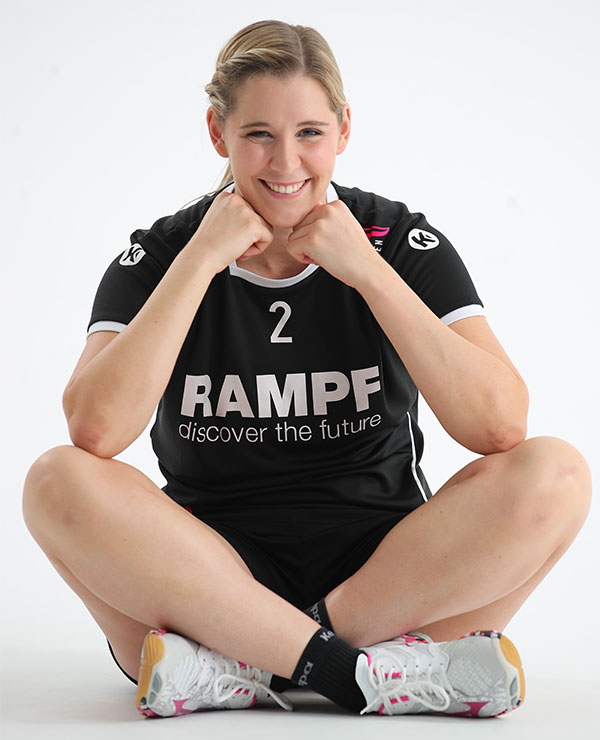 You've reached the Final4 tournament, which takes place at the end of this season. The TUSSIES are still waiting for their first title. How important are such titles for a sponsor? And what do you think of the TUSSIES' chances this year?
Michael Rampf:
As a fan, I'd obviously say we have to win the title. As a sponsor, the Final4 also gives us the opportunity to advertise to a different audience, so it's a great achievement to make it. And I think our chances of winning the title are 50:50, assuming of course that all the players are fit.
Do you agree, Marli? What do you think your chances are of lifting the trophy?
Marlene Zapf: I think we saw last year with Oldenburg how it's possible to beat even the stronger opponents. The game against THC is huge, but we obviously hope we can bring home the title – and that means coming away with two wins.
Today's interview is taking place in a very relaxed atmosphere. The word partnership is almost inappropriate – it's more like a friendship. Is that the connection between RAMPF and the TUSSIES? And is that perhaps exactly what makes the TUSSIES so special?
Michael Rampf:
Exactly. The TUSSIES aren't simply a product. There's a real connection between the fans, players, and sponsors.
After five years in PINK, the relationship with some sponsors has grown. You previously played for Ketsch and Leverkusen in the Bundesliga. Would you say what Metzingen has is unique? And is it the same for all the players?
Marlene Zapf:
The family atmosphere here is something very special. It was similar in Ketsch, but there weren't such close ties with the sponsors there. Chatting with the spectators after the game is part and parcel of what we do. And I think it's very much appreciated. It's definitely something a bit different to start with for our new signings, but they quickly learn to appreciate it and love joining in.