09/27/19
|
Engineering Casting Resins,
Adhesives,
Sealing Systems,
Dispensing Systems & Robots
RAMPF at Filtech 2019
Powerful filters for cleaner air
Increasing health awareness, stricter environmental legislation, and ever more demanding industrial processes – there are many reasons for the increasing demands on air purity.
Thanks to high-performance air and HEPA filters, these requirements can be met. And in industry, oil and hydraulic filters play a very important role, as they protect machines and plants against contamination and the associated malfunctions and failures.
Reactive resin systems for a variety of filters
A number of reactive foam gaskets, casting resins and adhesives are used in the production process of filter systems to ensure their long-term function. Whether for air or liquid filters – as a leading developer and manufacturer of reactive resin systems based on polyurethane, epoxy, and silicone, RAMPF Polymer Solutions is your go-to-partner for filter production.
Conductive casting resins are of particular importance for filter production. If, for example, the static charge of a filter causes a spark blow during cleaning, this can lead to an explosion in the filter and thus in the system. To prevent this, RAMPF Polymer Solutions has developed soft (Shore A 85) and hard (Shore D 80) casting resins with a conductivity of 0.03 MOhm/cm. These exhibit good flowability, chemical resistance, and are machineable.
In addition to casting resins, other reactive resin systems are used in the various filter systems, such as:
Liquid and thixotropic RAKU® PUR foam gaskets are used to seal air filter elements. They exhibit fast curing and short process times.
2K RAKU® PUR casting resins fix the individual filter elements in the filter frame to ensure optimum stability. These systems have good adhesion to plastics.
When producing the filter medium, the filter fleeces are equipped with a RAKU® MELT hotmelt adhesive and then automatically folded. The hotmelt fixes the spacings of the filter paper folds.
Filled RAKU® rigid foams are used to fix the filter medium in the frame. Here, high mechanical strength, a highly abrasion-resistant surface, and very good adhesion and chemical resistance are a must.
Material and machine – from a single source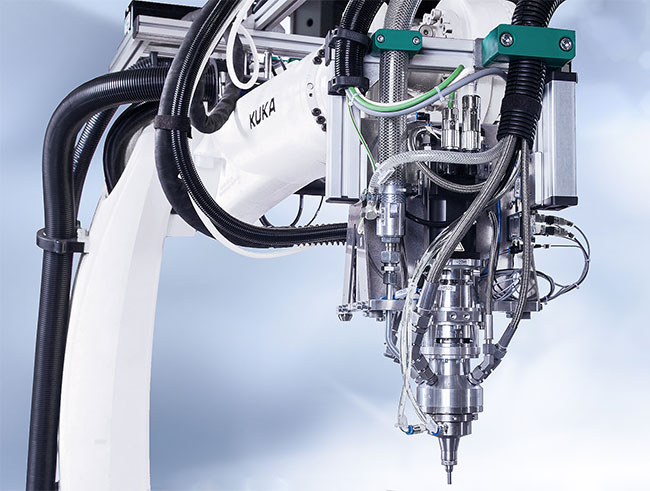 The international RAMPF Group not only develops high-performance materials for filter production. RAMPF Production Systems is one of the world's leading supplier of mixing and dispensing systems for the safe processing and application of reactive resin systems.
In addition to its core competence in mixing and dispensing technology, RAMPF Production Systems offers project-specific automation concepts. This includes integrated part transport and heat treatment, assembly and joining technologies as well as logistics and quality assurance solutions. Customer-specific solutions also encompass the integration of surface activation processes as well as testing and measurement technology to safeguard production processes.
Thanks to these competencies, RAMPF Production Systems develops turnkey production systems including customized automation solutions for its customers. In view of ultra-fast and highly flexible production processes required in modern production facilities, this is a decisive competitive advantage.
RAMPF is your holistic partner for filter production. With our chemical and engineering know-how, we develop customized reactive resin systems and processing methods for your production.
Visit us from October 22 - 24 in Cologne at Filtech 2019 – Hall 11.1 / Booth B19. It's the world's largest trade fair for filtration and separation technology, covering the latest developments, trends, and products in the filter industry.
FILL OUT THE CONTACT FORM AND GET YOUR FREE TICKET FOR FILTECH 2019!
Interesting articles
Everyday Life with Dispensing Technology
Waking up, doing the washing, driving your car, working, cooking dinner – nothing works without dispensing technology from RAMPF.
Polyurethane for Gigantic Construction Project
High-performance precision molds made of polyurethane, developed by RAMPF Polymer Solutions and WASA Compound GmbH & Co. KG, play an important role in the gigantic railway project Crossrail in London. Find out more about the…