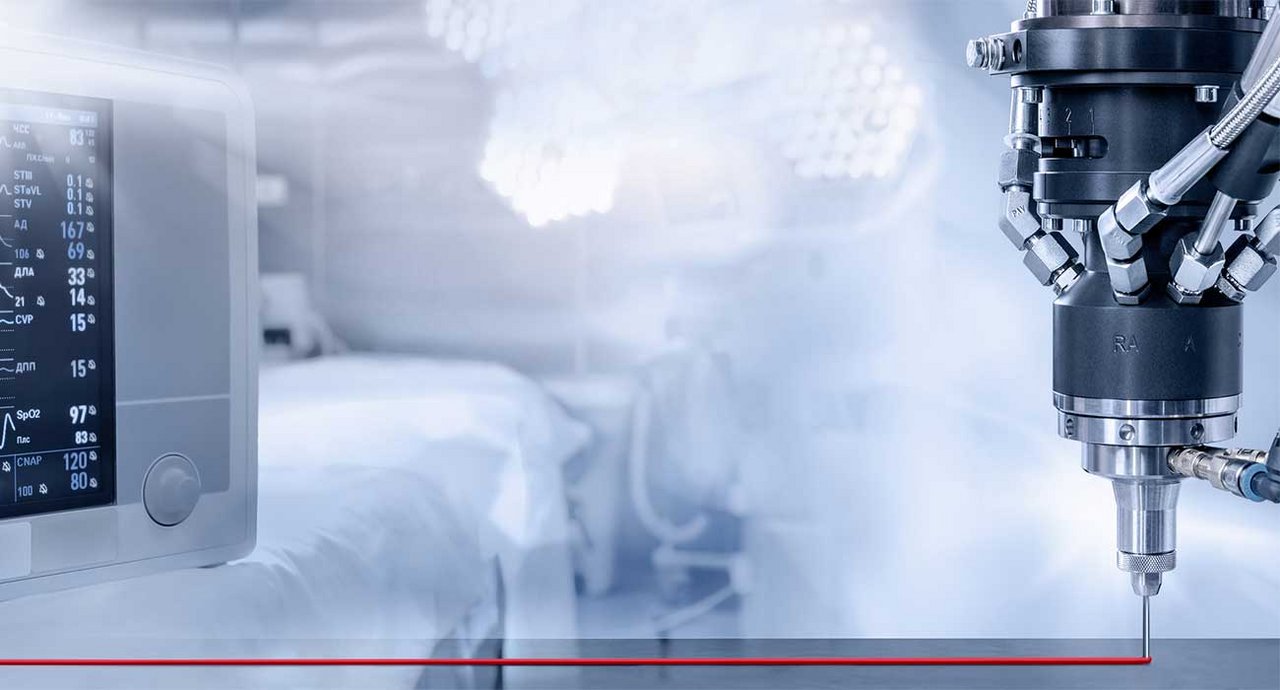 Mixing & Dispensing Technology from RAMPF in the Fight Against Covid-19
Zimmern ob Rottweil, Germany,
06/16/21.
In the fight against Covid-19, extracorporeal membrane oxygenation (ECMO) has established itself as a life-saving procedure for patients suffering acute respiratory failure. Mixing and dispensing technology from RAMPF Production Systems is used in the manufacture of the membrane oxygenator, one of the most important components of the heart-lung machines used in this procedure.
Severe cases of Covid-19 frequently lead to pneumonia, which can, in turn, cause acute respiratory failure. The lungs are then no longer capable of supplying enough oxygen to the body. It is in this emergency medical situation when medics turn to extracorporeal membrane oxygenation (ECMO) – a process that pumps the blood through a heart-lung machine outside of the body, where it is oxygenated and the carbon dioxide is removed.
The procedure involves using a catheter to draw the patient's blood out of the body. The catheter is connected to an oxygenator, which feeds oxygen into the blood and filters out the carbon dioxide. The blood is then warmed up and returned to the patient's venous or arterial system.
High-precision and fast polyurethane resin dispensing in a clean room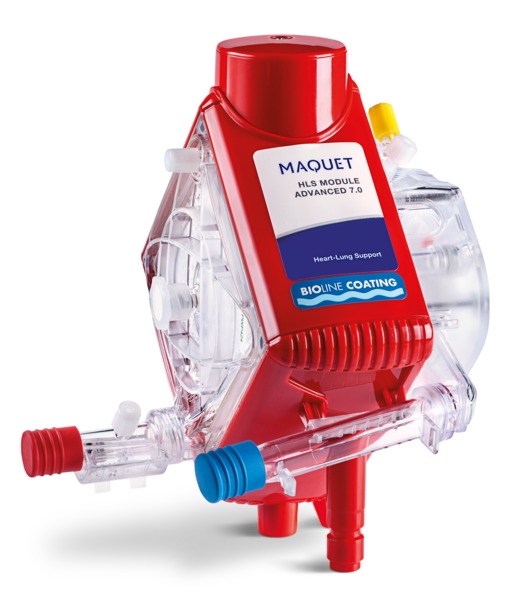 Getinge has a broad product portfolio for short-term or longer-term ECMO, and is the global market leader in this field. Its portfolio covers a range of devices and consumables for extracorporeal heart and/or lung support, including centrifugal pumps, oxygenators, heaters, tube sets, catheters, and cannulas.
Daniel Braunstein, Sales Manager at RAMPF Production Systems:
For this challenging casting process our C-DS compact dispensing system is used. This ensures precise and rapid material preparation and dispensing, while also enabling space-saving integration into the production line as a whole. To ensure the requisite high level of safety and reliability, pressures, temperatures, and fill levels are continuously monitored with process overviews presented in graphic form. In addition, all the dispensing system's surfaces are stainless steel, in line with requirements for clean room manufacturing.
The C-DS is equipped with the MS-C dynamic mixing system developed by RAMPF Production Systems. Its servo-controlled ceramic valve technology achieves optimum values in terms of precision, reproducibility, and reliability. Its small external dimensions give the MS-C maximum flexibility in applying complex component contours, while its simple, modular construction and a design that separates the valve section from the mixing chamber section make the mixing system particularly easy to maintain.
Michael Mankopf, Director Technical Product Marketing ECLS & Perfusion at Getinge :
The outbreak of the coronavirus pandemic led to an even higher demand for ECMO. Our ECMO machines provide life support to critically ill patients and give their lungs the time they need to recover. Our oxygenators are produced in adherence to the highest standards of safety and quality. The dispensing system from RAMPF is able to cope with this highly complex process, while also meeting every requirement for clean room production.