Online application
Please apply using our online portal by preparing a cover sheet, an appropriate covering letter, your résumé, and an annex with your certificates (see application tips). You should preferably use Adobe pdf format.
Confirmation application received
You will receive an automated confirmation of receipt by e-mail.
RAMPF looks through documents
We will assess the application internally and pass it on to the relevant departments.
Reply and arranging interview
If your application meets with a positive response, we will get in touch to arrange a personal interview.
1st interview
Interviews can take place in person or in the form of a telephone/video interview. You will be interviewed by representatives of the HR department and the responsible department. The purpose of this interview is to find out more about your personality, capabilities, and qualifications. Naturally, you will also have the opportunity to ask questions and get to know us as a potential employer.
2nd interview
The second interview is intended to reinforce the impression gained during the first meeting with you. We will answer any remaining questions you may have, talk about your future areas of activity, and try to establish whether you will be a good fit for RAMPF. Interviews are normally conducted directly with the relevant department. A representative from the HR department is generally present and possibly also a member of the management team.
Appointment
If you win over the representatives of both departments, you will be offered a contract.
General requirements
Pay attention to grammar, spelling, and punctuation
Create an appealing, positive overall impression (individual, personal touch)
If applying by e-mail, attach all documents combined in a single pdf file
Cover sheet
Name of applicant
Indication of career choice
Company
Possibly, application photo (digital, professional quality)
Personal letter of application (ideally one A4 page)
Applicant's name, address, phone number, and e-mail address, address of company (find out name of direct contact), and date of letter
Subject line referring to apprenticeship
Direct opening salutation
Grab the company's attention with a creative initial sentence (no empty phrases)
Indicate the applicant's career choice and the source of the apprenticeship details (e.g. careers fair, company website, etc.)
What is the applicant doing at present and what are the reasons for the application?
Why is the applicant a good fit for the company and the chosen career?
What makes the applicant stand out from the crowd?
Signature
Annexes
Résumé in table form
Address
Personal data
Education / professional experience
Internships / special skills
Leisure activities
Date and signature
The résumé should provide a complete profile of the applicant. It is also important to indicate what the applicant will be doing between the application and the start of the relevant apprenticeship.
Certificates
The school grades obtained for German, math, and English are particularly important in our eyes, as are those for all subjects that are relevant to the apprenticeship, such as economics, chemistry, and technology. IT skills and the grades obtained for conduct and teamwork are also deemed important.
We require copies of all relevant graduation / training certificates as well as performance records (end-of-year reports) for the last two years. The more documents applicants include, the easier it is for us to assess their overall performance.
Internships and other experience
Activity reports
Information about special achievements both inside and outside school
It is important to include with the application proof of all relevant achievements / successes / skills that could be of value for the application (e.g. internships completed, certificates, etc.). We can only assess what we can see!
Christoph Ambacher | Trainee IT Systems Integration
"Already during my school days I had a lot to do with computers and electronics, both at home and with friends. During my career-orientation internship in high school, I decided I'd like to train as an IT specialist in systems integration. I applied for an opening with RAMPF, as the group is well-known in the region and its in-house IT department provides support for the subsidiaries in Japan, the United States, and China, which would require me to also use my language skills. My training takes place in two departments. The first is Enterprise Resource Planning (ERP), which oversees goods and customers and runs the business intelligence system, programs modifications, and provides the appropriate training. The second is IT Support, which is responsible for the purchase and maintenance of IT systems and provides support for RAMPF's workforce. I am already entrusted with numerous tasks, I work independently on the support hotline, and I have my own projects. The working atmosphere at the company is very positive, you get to know many people, and everyone is supportive and friendly. As the RAMPF Group strives to take on apprentices after they complete their training, there is a good chance I'll be able to stay on as a qualified IT specialist if I work hard and do well."
Jasmin Berger | Trainee Industrial Management
"My name is Jasmin Berger and I am currently training to become an industrial business management assistant at RAMPF Holding. Whilst studying at commercial vocational college, where I majored in foreign languages, I decided to embark upon a commercial apprenticeship in an international company. The first thing I did was to see which apprenticeships lead in this direction. In the end, I decided industrial business management fitted the bill. I then started to look for a company that offers this kind of training. I read a lot of positive things about RAMPF in the newspaper, which prompted me to apply there. The very pleasant atmosphere at the company struck me already during the first stage of the application process. My experience so far as a trainee, which has led me through many different departments including Sales, Purchasing, Quality Management, Marketing, HR, and Incoming/Outgoing Goods, certainly reinforces this impression."
Christiane Lang | Trainee Industrial Management
"Once I completed vocational school, majoring in foreign languages with an advanced technical college certificate, an apprenticeship in industrial business management made perfect sense. An internet search led me to the family-run SME RAMPF. It was the opportunity to sample different commercial departments, such as Purchasing, Sales, Process Planning, Materials Management, HR, and Marketing, that attracted me to this particular option. One of the major benefits of this approach is that it reveals and teaches you the correlations between the company's various departments. I was quickly handed responsibility and integrated into my colleagues' everyday working routines. My training already involved attending trade fairs, running projects, preparing presentations and events, designing flyers, delivering presentations to my managers, and looking after interns. I really enjoy the way every day offers new and exciting challenges, and that as an apprentice I can always approach my managers if there's anything I need help with.."
Have you not found what you are looking for?
Is this perhaps not the right vocational course for you? Or perhaps you would like to keep looking to see the other ways you could shape your future at RAMPF? Then click here to see our full range of training opportunities.
The RAMPF Group stands for engineering and chemical solutions.
Our products and solutions can be found in almost every industry worldwide.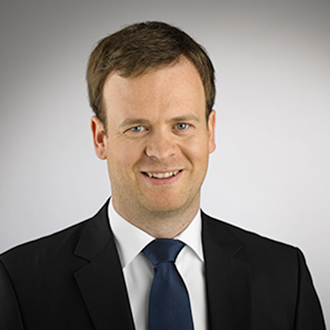 Your Contact
Christopher Haid
Team Lead HR Operations I Human Resources
Tel.: +49 7123 9342 1121
Contact Form