12/08/21
|
Close Contour Products
An Innovative Concept
The Lincoln Anniversary Concept Vehicle takes center stage at the prestigious Monterey Car Week in Pebble Beach, CA.
Every year, car enthusiasts flock to Peddle Beach to attend one of the most prestigious auto shows in the United States, the Pebble Beach Concours d'Elegance. Due to the pandemic last year, the 70th year anniversary was celebrated this year. The event attracted 85,000 visitors to the area, and over 65 Million dollars in travel spending.
Before the show closes, a vehicle is selected for "Best of The Show." Previous show winners are invited to participate in the event as well. Many of the world's major car manufacturers also present their latest models and prototypes. This year, the luxury vehicle brand Lincoln unveiled a real eye catcher – the Anniversary Concept Car.
The car looks absolutely stunning. The sleek design and attention to detail definitely "Discovers the Future". RAMPF'S epoxy paste RAKU® TOOL CP-6070/6072 was used in the build process. The material advantages are easy processing/machining, homogenous and seamless surface of any size part/model, and a cost effective supporting structure.
Mark Davidson, Head of Sales & Marketing at RAMPF Group, Inc.:
This work of art shows again what amazing products are made with our RAKU® TOOL materials. With its outstanding surface quality and excellent dimensional stability, this easy-to-mill Close Contour paste has made an important contribution to the first-class quality of the concept car. Thanks to the close contoured shape, less material is used and less production waste is generated, which significantly improves the sustainability of the production process.
While the cars are the stars, it is important to mention the team of students from the renowned Art Center College of Design in Pasadena and Aria Group, a leading provider of design, engineering and manufacturing solutions, also based in California. Although the Lincoln "Anniversary" did not win the "Best of Show Winner", it definitely has our vote.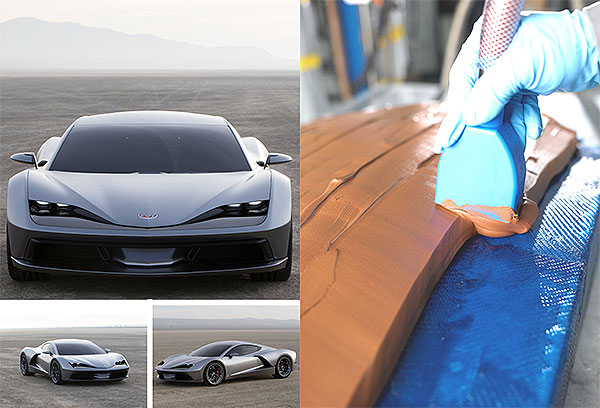 RAMPF USA already worked together with Aria Group back in 2017. The result is also very impressive – Fast Eddy!
Interesting articles
RAMPF and the new Volkswagen ID.3 – a firm bond
RAMPF Production Systems is working closely with Volkswagen, supplying the bonding technology for its new electric car model
Mission Possible – Lightweight & Cost Competitive
Reducing component weight and production cost – thanks to the experts from RAMPF Composite Solutions and RAMPF USA, this is no longer wishful thinking. Using Tailored Fiber Placement (TFP) and high-performance liquid resins, the…