04/20/20
|
Electro Casting Resins,
Dispensing Systems & Robots
Heat-Resistant Electro Casting Resins in Power Electronics
Power electronics are a key technology for the further development of automotive & electro mobility
Whether at home, at work, or on the road – there are many ways to charge electric vehicles. However, the individual charging processes are complex processes that need to be mastered. For example, to charge an electric car, the electricity coming out of the socket must first be converted from alternating current (AC) to direct current (DC).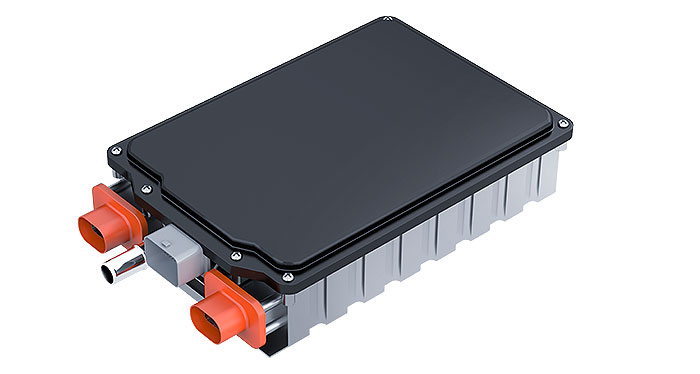 The applications of power electronics in the automotive and e-mobility sectors are very versatile. In addition to on-board chargers and DC/DC converters, these include
Capacitors
AC/DC converters
Relays
EMC filters
However, they all have one thing in common: they are indispensable in a multitude of electrical and electronic components. DC/DC converters, on-board chargers & co. have to master a multitude of challenges, first and foremost thermal management.
Thermal management & power electronics
During the use of electrical appliances, the installed components can generate considerable amounts of heat. This is additionally amplified by an increasing component density of electronic and electrical devices. If the heat generated is not effectively dissipated by the individual components, this can have an enormous impact on the reliability and service life of the device.
For this reason, heat management plays an decisive role in power electronics – and electro casting resins are an important part of this.
Electro casting resins – excellent thermal resistance
In order to ensure the long-term functionality of power electronic devices, the heat generated must be efficiently dissipated. Due to their high thermal conductivity, so-called gap fillers, silicone-based thermal conductive pastes, as well as casting compounds with very high thermal conductivity based on polyurethane, silicone, and epoxy take over this task.
During the application process, particular attention must be paid to avoiding air inclusions in the component, as these would significantly impede heat dissipation. In addition to high thermal conductivity, the electro casting resins used in power electronics must, above all, have a high thermal resistance, as they are exposed to great stress due to the permanent dissipation of heat.
Thermal endurance is the permanent resistance of plastics to high temperatures. However, if the electro casting resins used are not characterized by such high heat resistance, they may become brittle or even decompose. The relative temperature index (RTI) serves as a measure of the thermal ageing resistance.
Thermal shock resistance is also very important, i.e. the ability of the material to withstand strong and rapid cooling or heating without damage. As a manufacturer of reactive plastic systems, RAMPF Polymer Solutions has a strong focus on the development of electro casting resins with excellent thermal load capacity and thermal shock resistance.
In order to guarantee this, RAMPF tests its electro casting resins with the aid of a so-called temperature shock cabinet. This has a heat chamber (+50 °C to +220 °C) and a cold chamber (-80 °C to +100 °C), by which the effects of frequent and strong temperature changes on a material can be determined.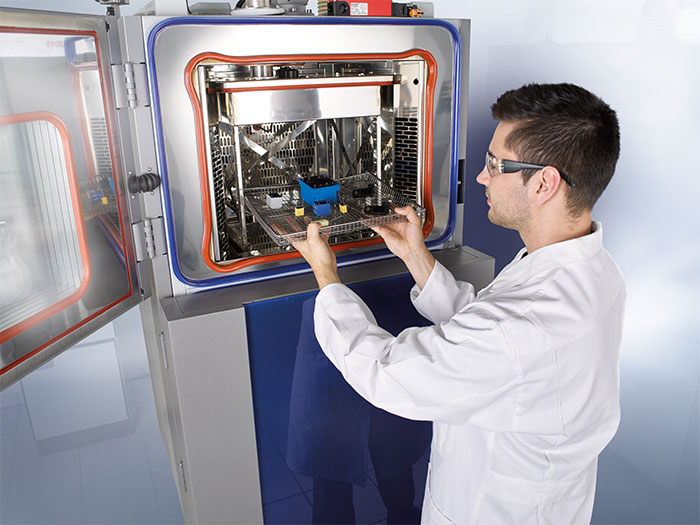 RTI electro casting resins from RAMPF Polymer Solutions are characterized by the following properties:
Permanent thermal shock resistance in an application range from -40 °C to +200 °C
Low water absorption
High thermal conductivity
Good hydrolysis resistance
Flame protection according to UL94 V0
Application on two-component mixing and dispensing systems
Philipp Herberger, Product Manager Electro Casting Resins at RAMPF Polymer Solutions:
Our electro casting resins are characterized by excellent thermal resistance and therefore make an important contribution to further progress in the field of electro mobility.
Do you have any more questions? Get in contact with our experts!
Interesting articles
Stay Cool
Innovative casting systems – and especially their thermal conductivity – are crucial for the performance of electrical and electronic components. We explain why – and how you can get your free ticket for the productronica trade…