10/13/20
|
Sealing Systems,
Adhesives
Our Expertise for Your Home
Large quantities, fully automated production processes, ultrafast cycle times, low costs, and top quality make the household appliances industry a fiercely competitive global business. Find out how sealing systems from RAMPF Polymer Solutions provide your products with a vital advantage!
Washing machines live longer with Calgon.
It's a safe bet everyone will have heard this jingle at some point. However, did you know that the primary factor in prolonging the service life of washing machines is high-performance sealing systems?
There are many places where foam gaskets are used in washing machines. While an average machine has a service life of five to ten years, higher-quality products can easily keep operating for up to 20 years. This is also possible thanks to the use of high-performance foam gaskets from RAMPF Polymer Solutions, as these contribute to both the durability and the reliability of the machine.
Diverse industry – diverse applications
In addition to the field of washing & drying, the household appliances industry also requires foam gaskets for use in refrigerators, cooktops, and vacuum cleaners. Frequently, these use adhesive sealing solutions that combine the properties characteristic of foam gaskets with those of adhesives.
Thanks to its large adhesives portfolio, RAMPF Polymer Solutions offers a range of solutions for this, too.
However, specially formulated foam gasket solutions are required in this huge range of different applications. While the foam in refrigerators and freezers has to be particularly resistant to cold temperatures, cooktops pose particular challenges to the foam gasket in terms of mechanical strength and resistance to high temperatures.
An overview of the requirements for the individual areas of application:
Refrigeration & freezing
Resistance to low temperatures
Universal adhesive spectrum
Automation enabled
Rapid process times
Washing & drying
Resistance to moisture and chemicals
Universal adhesive spectrum
High mechanical strength
Automation enabled
Rapid process times
Cooking & baking
Resistance to high temperatures
Hydrolytic resistance
Universal adhesive spectrum
Automation enabled
EU 10/2010 & FDA for internal use
Rinsing & cleaning
High chemical resistance
Hydrolytic resistance
Easy cleaning of components
Automation enabled
High mechanical strength
RAMPF foam gaskets and their applications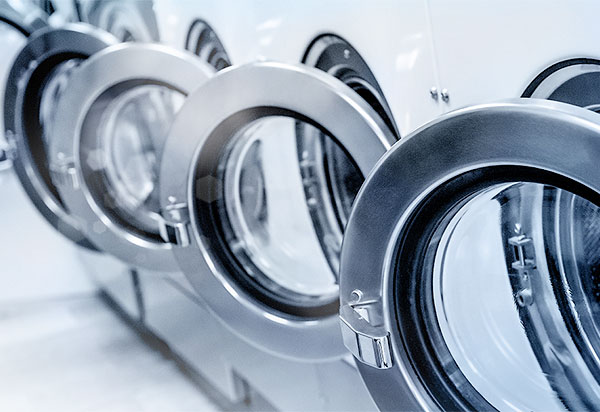 For the household appliances industry, RAMPF Polymer Solutions formulates sealing systems based on two-component polyurethane or silicone under the brands RAKU® PUR and RAKU® SIL depending on the requirements. The foam gaskets meet the highest requirements, while reliably and efficiently protecting household appliances from moisture, chemicals, and various environmental influences.
The foam gaskets are applied using FIPFG technology (Formed in Place Foam Gaskets), a low-pressure foaming process for applying sealing systems. This type of application runs automatically, meaning large quantities with different shapes can be sealed cost-effectively and at consistently high quality. Besides the household appliances industry, FIPFG is used in many other sectors.
Sebastian Kärcher, Market Segment Manager Sealing Systems at RAMPF Polymer Solutions:
Offering a broad product portfolio in the field of foam gaskets, RAMPF Polymer Solutions has high-performance sealing solutions for household appliances that can be formulated according to your requirements.
Do you have any questions, or would you like to know more? Feel free to contact our experts!
Take a look at the other sectors in which we are active with our sealing systems.
Interesting articles
Close Connection – Sealing Systems and Door Modules
Moisture outside the car is OK, but inside it's a no go. That is why vehicles must be reliably sealed. In door modules, high-performance sealing foams from RAMPF Polymer Solutions fulfil this important tasks realiably and in the…
Rigorous Examination!
UL 50, UL 50E, UL 94 – What do these certificates mean and why are they important for sealing foams?