08/10/18
|
Board Materials
The Lions are back.
They mysteriously disappeared and were never to be found again. But now the eight lions that once graced the iconic Amstel Hotel in Amsterdam, Netherlands, have returned – thanks to some serious historical detective work, the tooling and composites experts at the Dutch company Scabro, and a highperformance polyurethane board from RAMPF.
Unsolved mysteries are the real deal. After all, if they were not unsolved, they would not be mysteries anymore…
This definition certainly holds true for the eight lion statues of the five-star hotel InterContinental® Amstel in Amsterdam. First of all, it took some serious researching of the Amsterdam City archives to establish that they once had actually been sitting on top of the building. And, still today, no one knows how, why, or when the stone beasts were removed.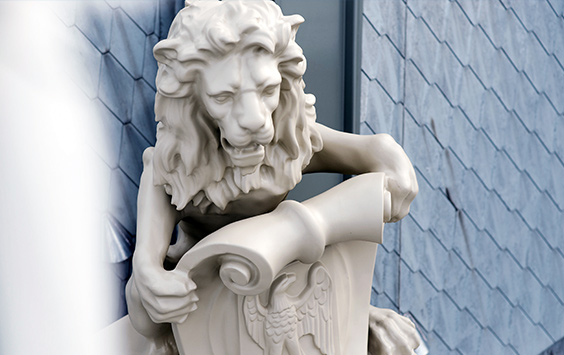 The Amstel hotel – aka Amsterdam's original "Grand Dame" – first opened its doors on April 27, 1867. When it was recently decided to refurbish its roof and façade in full accordance with the original architecture, the city's archives had to be studied for historic images.
We are renowned for both our capabilities and the fact that we only work together with the best craftsmen and material suppliers. This guarantees for first-class results.
Jaap Ruwaard, Technology & Sales Manager at Scabro
It was on one of these old photographs that someone noticed the eight lion statues – and that they were not there anymore. For several months, an in-depth research was conducted, but their whereabouts could not be determined.
Biljoen lion to the rescue
As the lions were seen as a substantial part of the historic building, it was decided to manufacture the lions from scratch. Fortunately, a replica of the Amstel lions was found at Biljoen castle near the Dutch town of Velp, which served as a model for the 1.6 meter high statues. The responsibility for manufacturing the replicas was given to the mold construction & composites tooling experts at Scabro, a company based in Katwijk aan Zee in mid-western Netherlands, and its customers Doornekamp Woodspecials and Jules Dock Shaping.
Using the CAD data from the Biljoen lion, the replicas were milled from RAMPF's styling board RAKU® TOOL SB-0240, then painted and specially coated.
"Our polyurethane material is fast and easy to machine, guarantees for a very fine surface finish, and is able to withstand abusive environments –which is, of course, a very important feature, as the replica lions had to be handled during transport and then installed by crane onto the top of the building", notes Markus Halter, Regional Sales Manager at RAMPF Tooling Solutions.
Both Scabro and RAMPF place great value on a trustful relationship and open communication. This year, the partnership is set to reap even more success, as Scabro is moving to a new location that encompasses, amongst others, an 80 square meter laboratory and a spacious warehouse. "We work very closely together with the experts of our partners and regularly invite them to our company to impart their theoretical knowledge and practical skills to customers. In our new facility we can further expand this special service", Jaap Ruwaard points out.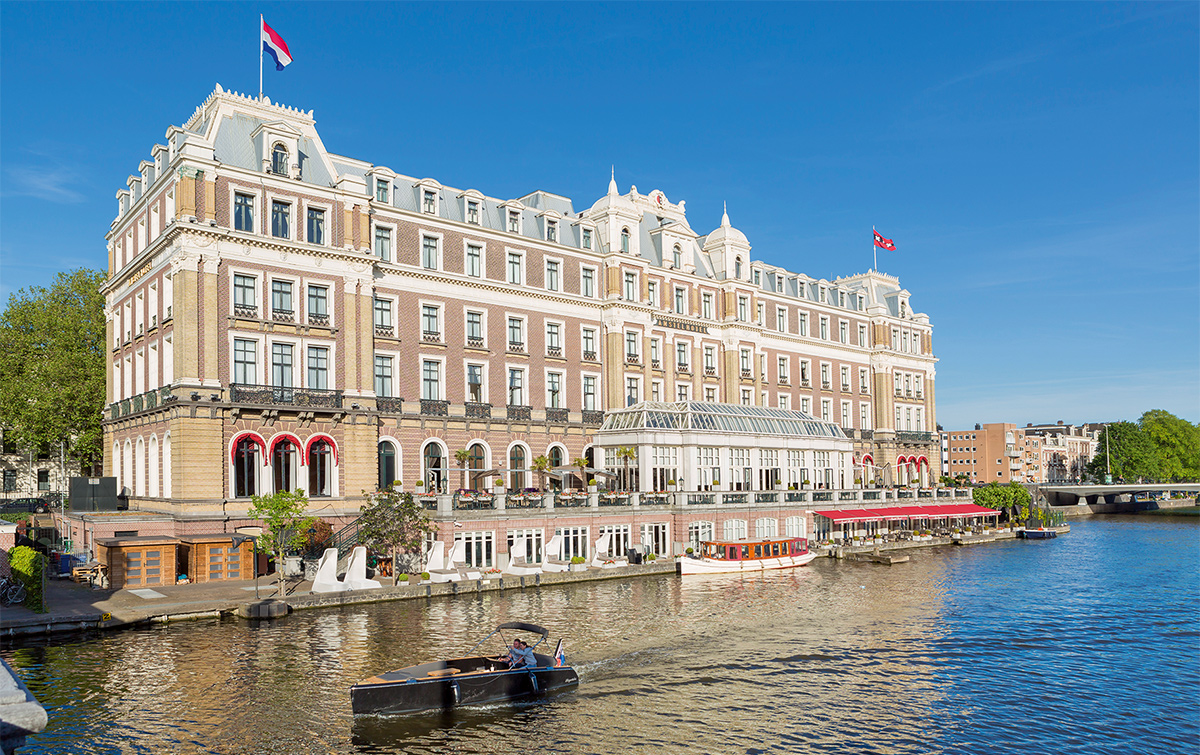 Auf mysteriöse Weise verschwanden sie und wurden nie wiedergefunden. Aber jetzt sind die acht Löwen, die einst das ikonische Amstel Hotel in Amsterdam schmückten, wieder da – dank historischer Detektivarbeit, der Tooling- und Composites-Experten des niederländischen Unternehmens Scabro und einem leistungsstarken Polyurethan-Blockmaterial von RAMPF.
Ungelöste Rätsel sind das einzig Wahre. Wenn sie nicht ungelöst wären, wären sie schließlich keine Rätsel mehr…
Diese Definition gilt ganz sicher für die acht Löwenstatuen des Fünf-Sterne-Hotels InterContinental® Amstel in Amsterdam. Zunächst musste intensiv in den Stadtarchiven von Amsterdam recherchiert werden, um festzustellen, dass sie früher einmal tatsächlich oben auf dem Gebäude gesessen haben.
Bis heute weiß allerdings niemand, wie, warum oder wann die steinernen Tiere entfernt wurden.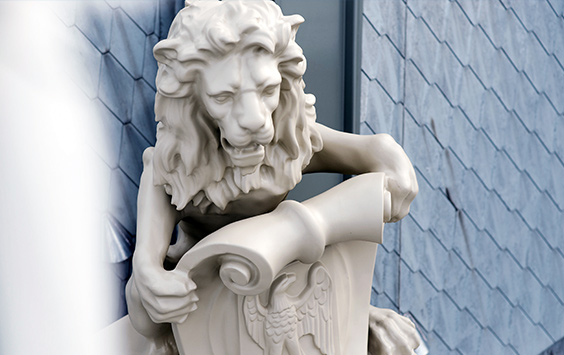 Das Amstel Hotel – auch als die "Grande Dame" von Amsterdam bekannt – öffnete seine Pforten am 27. April 1867. Als kürzlich beschlossen wurde, das Dach und die Fassade in völliger Übereinstimmung mit der Originalarchitektur zu renovieren, musste man in den Stadtarchiven nach historischen Bildern suchen.
Wir sind nicht nur für unsere Fertigkeiten bekannt, sondern auch für die Tatsache, dass wir nur mit den besten Handwerkern und Materiallieferanten zusammenarbeiten. Das garantiert erstklassige Ergebnisse.
Jaap Ruwaard, Technology & Sales Manager bei Scabro
Auf einem dieser alten Fotos entdeckte man die acht Löwenstatuen – und, dass sie schlicht nicht mehr da waren. Einige Monate lang wurde intensiv weiter recherchiert, aber ihr Verbleib konnte nicht geklärt werden.
Die Rettung: der Löwe vom Schloss Biljoen und Styling-Blockmaterial
Da die Löwen als sehr wichtiger Teil des Gebäudes angesehen wurden, wurde entschieden, sie nochmals ganz neu herzustellen. Zum Glück konnte im Schloss Biljoen in der Nähe der niederländischen Stadt Velp eine Nachbildung der Amstel-Löwen gefunden werden, die als Modell für die 1,6 Meter hohen Statuen diente. Der Auftrag zur Herstellung der Repliken wurde den Experten für Formenbau und Composites Tooling von Scabro, einem Unternehmen mit Sitzin Katwijk aan Zee im Westen des Landes, und seinen Kunden Doornekamp Woodspecials und Jules Dock Shaping erteilt.
Vertrauensvolle Partnerschaft
Anhand der CAD-Daten des Löwen von Schloss Biljoen wurden die Repliken aus dem Styling-Blockmaterial RAKU® TOOL SB-0240 von RAMPF Tooling Solutions gefräst und anschließend spezialbeschichtet. "Unser Blockmaterial lässt sich schnell und einfach bearbeiten, garantiert eine feine Oberflächenbeschaffenheit und hält auch schwierigsten Umgebungsbedingungen stand. Letzteres ist natürlich ein sehr wichtiges Kriterium, da die nachgebildeten Löwen transportiert und dann mit einem Kran auf das Gebäude gesetzt werden mussten", so Markus Halter, Regional Sales Manager bei RAMPF Tooling Solutions.
Scabro und RAMPF legen beide großen Wert auf eine vertrauensvolle Beziehung und eine offene Kommunikation. In diesem Jahr stellt sich die Partnerschaft auf noch mehr gemeinsamen Erfolg ein, da Scabro an einen neuen Standort umzieht, an dem es unter anderem ein 80 Quadratmeter großes Labor und geräumiges Lager gibt.
"Wir arbeiten sehr eng mit den Experten unserer Partner zusammen und laden sie regelmäßig zu uns ein, damit sie den Kunden ihr theoretisches Wissen und ihre praktischen Fähigkeiten vermitteln können. In unserem neuen Werk können wir diesen speziellen Service weiter ausbauen", erläutert Jaap Ruwaard.