11/12/18
|
Close Contour Products
Shapely. Practical. Close Contour Paste.
Yes – it's that easy to produce models, molds, and tools with RAKU® TOOL Close Contour Pastes. In the following blog, we would like to inform you about how Close Contour Pastes are processed and the numerous advantages they offer.
Why Close Contour Pastes? The main advantages:
Processing
Thixotropic systems enable quick and easy processing with no slump on vertical surfaces.
Application manually or via CNC machine.
Components are processed via mixing & dispensing machines and can then be immediately applied.
Customer Benefits
The close contour shape of the part significantly reduces milling time and production waste.
Simple and low-cost substructure – virtually every material can be used, amongst others styling board RAKU® TOOL SB-0080, EPS, and cast aluminum.
Less finishing required due to homogeneous, seamless surface.
How is Close Contour Paste processed?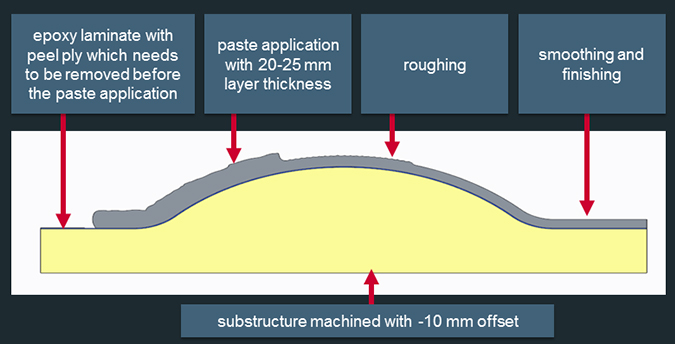 First, the substructure is selected according to operational conditions. It can consist of RAKU® TOOL SB-0080, EPS foam (minimum 20 kg / m3) with epoxy laminate, or cast aluminum. The substructure must contain -10% offset.
The paste is applied to the substructure in a layer thickness of approx. 20 - 25 mm and with an overlap. The nozzle must always be kept perpendicular to the surface. The exact application technique and section size depend on the chosen paste system, layer thickness, part contour, and temperature.
When the paste has cured according to the specifications listed in the technical data sheet, milling can start – first roughing, then smoothing and finishing.
Close contour, easy to mill, finest surfaces – Check out Close Contour Paste RAKU® TOOL CP-6070
This clip shows the milling of the finished paste model.
The following clip contains detailed footage of the project with Phiaro Group, including the milling of the substructure, the application of the Close Contour Paste RAKU® TOOL CP-6070, and the milling of the final car model.
So einfach und schnell können Modelle, Formen und Werkzeuge mit RAKU® TOOL Close Contour Pasten hergestellt werden. Über die Verarbeitung und Vorteile von Close Contour Pasten informieren wir Sie im folgenden Blogeintrag.
Warum Close Contour Pasten? Das sind die Vorteile.
Verfahren
Einfache Verarbeitung: thixotrope Einstellung, kein Ablaufen an senkrechten Flächen.
Pastenauftrag von Hand oder mit der CNC Maschine.
Die Komponenten werden mit einer Misch- und Dosieranlagen aufbereitet und können umgehend appliziert werden.
Kundennutzen
Aufgrund der konturnahen Form wird sowohl der Fräsaufwand als auch der Produktionsabfall signifikant verringert.
Einfacher, kostengünstiger Unterbau. Es kann nahezu jede Art von Unterbau verwendet werden, unter anderem RAKU® TOOL Styling-Blockmaterial SB-0080, EPS und Aluminiumguss.
Aufwendige Nacharbeiten fallen nicht an, denn die Oberfläche ist homogen und fugenlos.
Was ist bei der Pastenapplikation zu beachten?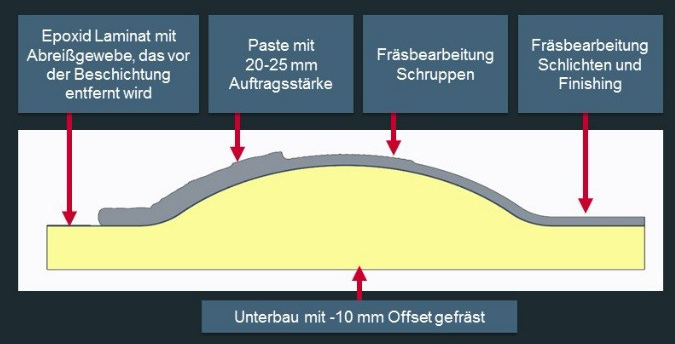 Zuerst wird der Unterbau entsprechend den betrieblichen Gegebenheiten ausgewählt. Er kann aus Blockmaterial RAKU® TOOL SB-0080, EPS-Schaum (Minimum 20 kg/m3) mit Epoxid-Laminat oder Aluminiumguss bestehen. Der Unterbau muss -10 % Offset enthalten.
Anschließend erfolgt der Auftrag der Paste auf den Unterbau, normalerweise in einer Schichtstärke von ca. 20 - 25 mm. Die Paste muss überlappend aufgetragen und die Düse senkrecht zur Fläche gehalten werden. Die genaue Applikationstechnik und Sektionsgröße sind abhängig vom Pastensystem, von der Schichtstärke und Bauteilkontur sowie Temperatur.
Wenn die Paste entsprechend den Angaben im technischen Datenblatt ausgehärtet ist, kann mit der Fräsbearbeitung begonnen werden. Zuerst erfolgt das Schruppen, dann das Schlichten und Finishen.
Nah an der Kontur, einfach zu fräsen, feinste Oberflächen: Close Contour Paste RAKU® TOOL CP-6070 im Einsatz
Das Video beschränkt sich auf die Fräsbearbeitung des fertigen Pastenmodells.
Das nachfolgende Video zeigt detailliert das ganze Projekt der Phiaro Group mit Close Contour Paste RAKU® TOOL CP-6070, vom Fräsen des Unterbaus, über die Pastenapplikation bis zum Fräsen des finalen Automodells.