RAMPF and the new Volkswagen ID.3 – a firm bond
10/07/21
Dispensing Systems & Robots
Adhesives
RAMPF Production Systems is working closely with Volkswagen, supplying the bonding technology for its new electric car model.
Volkswagen proudly unveiled its ID.3 at the International Motor Show in Frankfurt, Germany, in September 2019, and the market launch followed in 2020.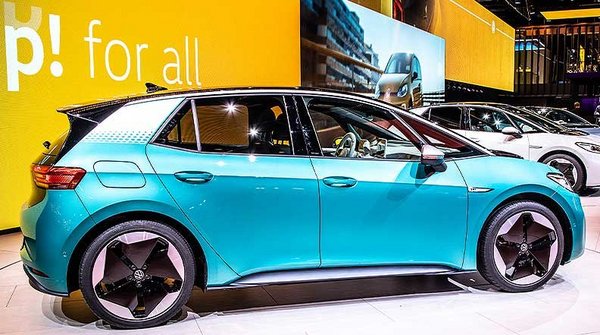 Futuristic and perfectly formed from nose to tailgate
Volkswagen proudly unveiled its ID.3 at the International Motor Show in Frankfurt, Germany, in September 2019, and the market launch followed in 2020.
Full automation complements assembly line production
To achieve this ambitious goal, the company is relying largely on fully automated production at its Zwickau plant, where the new ID.3 is rolling off the assembly line. Some 1,500 robots are used in this plant's multilayer production lines. Six robots for this level of production are located at Volkswagen headquarters in Wolfsburg.
They were supplied by the dispensing specialist RAMPF Production Systems based in Zimmern ob Rottweil, where three fully automated joining systems for the new ID.3's tailgate were developed and manufactured. As an expert in automated dispensing technology, RAMPF Production Systems is already a long-standing partner of the VW Group. Despite this, the request for (initially) two robot systems with identical designs to undertake the fully automated joining process for the sporty tailgate complete with spoiler represented a challenge for the RAMPF team.
The envisaged systems were huge, the technology involved – full robot-assisted automation executed to absolute perfection – was on a larger scale and more highly engineered than any previous RAMPF project, and the customer requirements were demanding. Following numerous negotiations and workshops, the responsible project managers in Zimmern started on the planning and worked with Volkswagen to develop an innovative concept.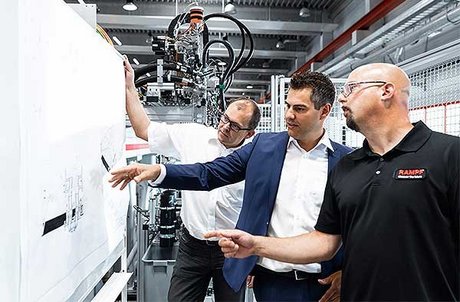 Major project made possible thanks to teamwork and collective engineering expertise
The application engineering test phase was initiated and an appropriate series tool was developed. The creative minds at RAMPF spent weeks working on an ideal solution to firmly bond the tailgate and spoiler. Tests to ascertain the optimum surface treatment – from plasma pre-treatment to flame treatment – took up a considerable amount of time and resources. In the process of finding the ideal solution, the company even developed a new COD (curing on demand) process that uses heat to speed up curing.
After getting through numerous test components, a dynamic and robust flame treatment process carried out by a robot and the use of a flexible two-component adhesive ultimately turned out to be the perfect combination. This was confirmed by tensile tests, and the company was able to proudly tell Volkswagen that the tailgate and spoiler bonding was rock solid. After six months, development work on the overall system began.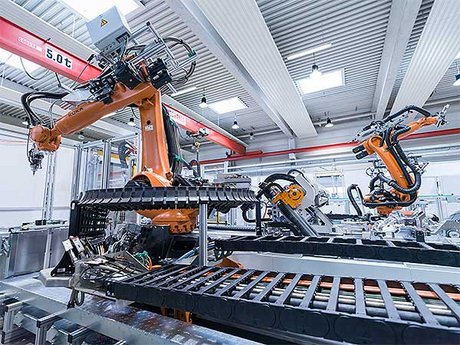 On the way to technical perfection
However, the initial concept with several cells arranged in a line was soon rejected, as the joining process had to be far more generously dimensioned and, above all, more automated. Also, the original plan was to use chain conveyers for components, but these had to be replaced by more flexible belt conveyors.
These stumbling blocks caused headaches for RAMPF and proved a tough test for the project. Despite a number of doubts and compromises, though, the Volkswagen and RAMPF engineers made a perfect team. Together, they developed an extremely versatile and generously dimensioned axis concept that ultimately incorporated far more automated movement into the system than VW had originally envisaged.
The end result is an impressive dispensing system with five fully automated joining tools, two highly dynamic seven-axis robots, large-scale tool axis systems, plus sophisticated pre- and post-treatment of components. The control system was developed in collaboration with KUKA and geared specifically to Volkswagen's requirements.
Complete pilot series joined in Zimmern
For advance production, all tailgates were bonded in the technology unit at the RAMPF plant in Zimmern before being packaged and shipped – another logistical test, but one that RAMPF passed with flying colors. The team was equally successful when it came to dismantling and reassembling the first system in Wolfsburg, which took a further nine weeks. This system had only just started operating when the RAMPF team began work on the second one with the same design, which has now been followed by a third system.
Thanks to teamwork and RAMPF know-how, there's now nothing to stop the successful series production of the new ID.3, at least as far as its tailgate is concerned.
The biggest full automation project RAMPF has ever carried out took around two years from project planning to completion of the third system. This period was marked by various highs and lows, many technical hurdles, a number of great feats, and the successful achievement of goals. Despite the very high degree of automation, for example, VW's output target was met as agreed – a perfect result that delighted both RAMPF and Volkswagen.
RAMPF is proud to be part of a seminal development and to be making its own small contribution to environmentally friendly electromobility. The company is also proud of every ID.3 that leaves the VW plant with a firmly bonded tailgate – perfectly formed thanks to RAMPF know-how.