Higher dispensing speeds. Shorter lead times. Same top quality.
11/10/20
Dispensing Systems & Robots
FlexSpeed dispensing robots from RAMPF Production Systems dispense slowly around corners and speed along straight sections
The aim of series production is to manufacture the maximum number of units with maximum machine utilization – without compromising on quality, of course. The time factor is vital for customers, including those of RAMPF Production Systems. Minimum lead times and maximum quality are among the keys to success in fully automated production. Time must be saved wherever possible so that staff, machine, and material are perfectly coordinated.
Right from the design stage, all movements and production steps on a new dispensing system are planned to take the minimum amount of time. RAMPF automation specialists ensure that assembly, handling, and the pre/post-treatment of components are all perfectly coordinated with the dispensing period – and thus naturally with the dispensing rate, which determines the amount of material leaving the mixing head per second.
RAMPF dispensing robots are fast, achieving straight-line dispensing speeds of up to 40 meters per minute if left to their own devices – but there are hardly any components where beads are dispensed in straight lines only.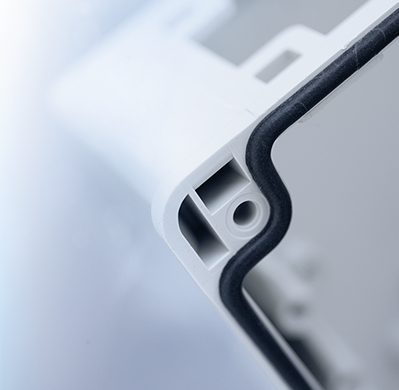 No two components are the same – dispensing robots adapt
A far lower dispensing speed is required for narrow geometries and the many corners, edges, and curves on components that are perfectly positioned in the end product. This is crucial, because a precise bead with minimum corner radius and optimum sealing is particularly important at corners to ensure components work properly.
The experts from the company based in the German town of Zimmern ob Rottweil realized it was important for the dispensing robot to combine excellent accuracy at tricky points with speedy operation in straight sections. By linking the dispensing and axis feed rates, their FlexSpeed technology adapts variably to the relevant component – and it goes without saying that consistent mixing ratios and seal cross-sections are also ensured.
Whereas a dispensing robot without FlexSpeed operates at a constant, low speed, the new technology supports speeds of up to 40 meters per minute in a straight line, braking in a controlled way shortly before corners and bends and then picking up speed again. Depending on the component geometry, this cuts lead times by over 50 percent in series production. The larger the component and the higher the proportion of long, straight sections, the bigger the time saving.

Parameters are easy to program, and the software uses the open Industrial Ethernet standard Profinet to network axial and dispensing pump drives in real time.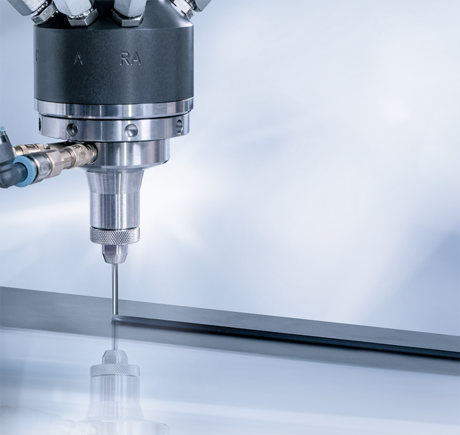 We asked our dispensing expert Stefan Roth about this pioneering technology.
If the travel speed is fluctuating, isn't there a risk that the seal cross-sections will be irregular?
The newly developed technology is based on forced volumetric dispensing and the direct linking of dispensing performance and axis feed rate. This means the amount of material being dispensed is adjusted precisely to suit the speed at which the dispensing head is moving over the component. During controlled braking ahead of corners and bends, the dispensing performance is reduced accordingly, so the sealing geometry remains consistent in the corners, too.
How does FlexSpeed affect the mechanical parts of the dispensing system?
FlexSpeed also offers key benefits for the mechanical parts of dispensing systems.
Only running at full load for short periods means hardly any wear, so speed-dependent dispensing places less strain on mechanical parts, and machine utilization can be boosted enormously – a classic win-win situation.