Get a grip!
07/18/19
Engineering Casting Resins
Rock climbing – no pun intended – is climbing the popularity scale at rapid speed. People across the globe are enjoying this sport, as it combines fitness, strength, staying power, concentration, and fun. The number of indoor climbing arcades has seen a significant jump, as many climbers either learn or practice their solely on artificial rock walls. Here, technology from RAMPF provides for an exceptional degree of authenticity and safety.
Although the idea is not new – the fi rst indoor climbing wall was built in Great Britain in 1964 – the number of arcades that specifi cally cater to climbing has signifi cantly increased of late. A number of reasons could be attributed for this
development:
First, many people do not have direct access to natural climbing walls or mountains nor the time to regularly go outdoors to practice. Indoor climbing walls, however, have mushroomed even in midsized cities, enabling people to go climbing in the evening after work.
Furthermore, indoor climbing is independent of weather conditions, which makes them especially convenient during cold and wet seasons.
Reputable indoor climbing arcades place great importance on high-quality equipment, including ropes, carabiners, climbing holds, and crash pads. The suppliers of this equipment have to meet special requirements in order to provide maximum
safety for climbers.
Particular attention is paid to climbing holds. Apart from shape, color, and design, the perfect hold should comply with a number of requirements such as good grip, break resistance, and non-toxicity. Furthermore, it must not have any sharp edges.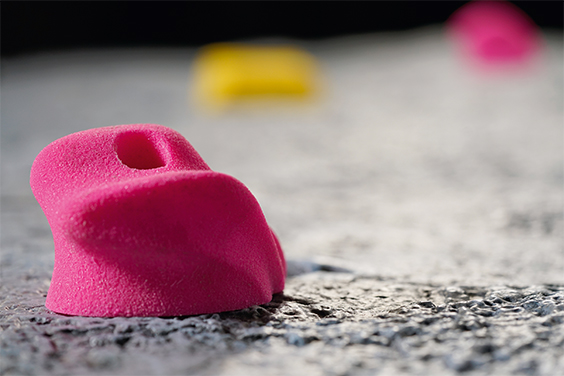 Hand-casted polyurethane holds
All these requirements are met by the climbing holds that are manufactured using the highperformance RAKU® IE-3092 polyurethane system developed by RAMPF Group, Inc. The low-viscosity, easy-to-process liquid casting compound is poured by hand into a silicone mold and then cured in an oven. To fi nish, the cast parts are deburred and grinded at the edges to render them smooth and safe.
"Our polyurethane material exhibits excellent abrasion resistance, tensile strength and elongation, very fi ne surface structure, high molding accuracy, and long pot life", says Mark Davidson, Tooling Solution Divison Manager at RAMPF Group, Inc. "It is very easy to process, making it very popular for hand casting prototypes and parts. Furthermore, it is easy to pigment, and we can provide the product pretinted in a variety of industry-standard colors."
As a true one-stop-solution provider, RAMPF not only provides material solutions for the climbing holds. Rock walls with an exceptional degree of authenticity are manufactured using the sculpting epoxy RAKU® TOOL EP-2344 / EH-2944 and the polyurethane board RAKU® TOOL SB-0240.
The low density of the sculpting epoxy with E84 Class A Certifi cation signifi cantly reduces the weight of the part, which in turn reduces costs and makes handling easier, especially when producing large sculptures and complete theming structures. Mixing and processing is straightforward, as there is no running or sagging.