05/02/18
|
Electro Casting Resins,
Sealing Systems
Electrifying the automotive industry
The complete electrification of automobiles is an emerging trend. This isn't just the case for cars, but also bicycles, buses, and trucks.
Despite highly promising forecasts, electromobility has not met expectations both in terms of market share and technological progress.
Experts nevertheless agree that electromobility will conquer the market sooner rather than later, thereby replacing the classic combustion motor.
In the fast lane
This development is being accelerated by polyurethane, silicone, and epoxy resins, which are being increasingly used in electromobility applications to seal battery covers, charging stations, and door mounting structures; and to cast transformers and sensors.
But which material is the most suitable for which application?
The difference between polyurethane and silicone in sealing systems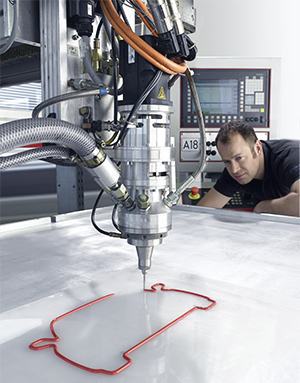 A tight seal – dependable and efficient protection from moisture, chemicals, and various environmental influences – is fundamental to the long-term performance of automotive parts.
Thanks to the very low water absorption, strong adhesion, high temperature resistance, and the cost-effective manufacturing process, foam gaskets are used by leading manufacturers across the globe.
Polyurethane and silicone systems only differ in a few aspects, most notably in terms of their adhesion properties, chemical resistance, water absorption, and temperature range.
Polyurethane systems – which are categorized into thixotropic and liquid systems – adhere well to almost all surfaces, such as PP, ABS, PC, and PMMA. Properties such as hardness and volumetric weight can be modified by adjusting the mixing ratio.
To ensure that silicone systems adhere well, a pre-treatment using plasma or a primer is usually required. The mixing ratio has no significant impact on the hardness or volumetric weight in this respect.
A major advantage of silicone systems is their high temperature resistance, which ranges from -60°C to +200°C, up to +300°C for short periods. The temperature resistance of polyurethane systems, in contrast, ranges from -40°C to +90°C, up to +140°C for short periods.
Both silicone and polyurethane exhibit very low water absorption, very strong chemical resistance, and adhere within a very short time.
The high-performance systems are used, amongst others, in the automotive sector as well as in control cabinets, household appliances, the lighting industry, and medical technology.
The difference between polyurethane, epoxy resin, and silicone systems in electro casting resins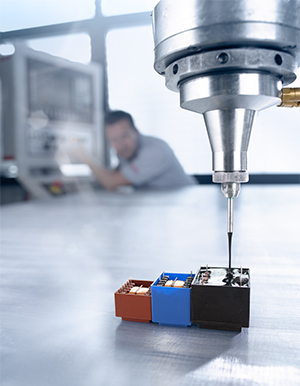 Electro casting resins based on polyurethane (RAKU® PUR), silicone (RAKU® SIL), and epoxy (RAKU® POX) are key to the further development of electromobility.
With high thermal, chemical, and mechanical resistance as well as reliable and effective protection against environmental influences, electro casting resins ensure the optimal and long-term functionality of sensitive electronic components.
The adhesion properties in terms of casting are similar to those when using foam gaskets.
Polyurethane adheres well to housings and components, particularly to plastic (PA, PBT, ABS)
Epoxy resins exhibit good adhesion to metals
Silicone adheres well to mineral substrates; with other substrates – as with foam gaskets – pre-treatment is often necessary before the silicone can be used
The temperature range of polyurethane is -60°C to +155°C, up to +160°C for sho rt periods.Epoxy systems operate between -40°C and +180°C, up to 200°C for short periods.Here, too, the temperature range of silicone systems is impressive – ranging from -60°C to +200°C, up to +300°C for short periods.
During casting, good electrical properties and mechanical values, high thermal conductivity, and high thermal dimensional stability are also important. These factors must also be considered when choosing materials.
Material and machines from a single source
"Material manufacturers should provide their customers with comprehensive advice on and assistance with selecting materials and producing parts," says Frank Birkelbach, Director of Sales & Marketing at RAMPF Polymer Solutions. "Our experts are always on hand to provide practical support to our customers. To do so, we can rely on over 35 years' experience in developing and manufacturing polyurethane, silicone, and epoxy resins."
Nowadays, even the best plastic systems are useless if they cannot be processed precisely. "Mixing and dispensing technology and the casting resin system need to be perfectly aligned with one another," explains Martin Hämmerle, Head of Application Engineering at RAMPF Polymer Solutions. "We therefore work very closely with our colleagues at RAMPF Production Systems in the areas of mixing and dispensing systems as well as automation solutions."
Ein Trend nimmt immer deutlichere Form an: die vollständige Elektrifizierung des Antriebs. Und das bei Autos, Zweirädern, Bussen und LKWs.
Trotz vielversprechender Prognosen hat die Elektromobilität bisher nicht die Erwartungen erfüllt. Nicht nur angesichts des noch geringen Marktanteils, sondern auch im technologischen Sinne.
Dennoch sind sich Experten einig, dass die Elektromobilität eher früher als später den Markt erobern und den klassischen Verbrennungsmotor verdrängen wird.
Auf der Überholspur
Diese Entwicklung wird auch vorangetrieben von Polyurethan, Silikon und Epoxidharzen, welche immer häufiger in Elektromobilitätsanwendungen eingesetzt werden, unter anderem für die Abdichtung von Batteriepacks, Batterieabdeckungen und Ladestationen sowie für den Verguss von Transformatoren und Sensoren.
Doch welches Material ist für welche Anwendung am besten geeignet?
Der Unterschied zwischen Polyurethan und Silikon im Bereich Dichtungssysteme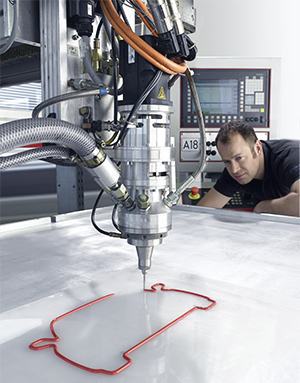 Dichtigkeit – der sichere und effiziente Schutz vor Feuchte und chemischen Einflüssen sowie diversen Umwelteinwirkungen – ist grundlegend für die langlebige Leistungsfähigkeit von Automobilteilen.
Aufgrund ihrer sehr geringen Wasseraufnahme, starken Haftung, hohen Dauertemperaturbeständigkeit und dem kostengünstigen Verarbeitungsprozess werden Dichtungsschäume weltweit von führenden Herstellern eingesetzt.
Polyurethan- und Silikonsysteme unterscheiden sich vor allem in Bezug auf Haftungseigenschaften, Chemikalienbeständigkeit, Wasseraufnahme und Temperatureinsatzbereich.
Polyurethansysteme, die sich in thixotrope und flüssige Systeme unterteilen, weisen auf nahezu allen Oberflächen eine gute Haftung auf (unter anderem PP, ABS, PC und PMMA). Dabei können Eigenschaften wie Raumgewicht und Härte über das Mischungsverhältnis eingestellt werden.
Für eine gute Haftung bei Silikonsystemen ist meist eine Vorbehandlung mit Plasma oder Primer erforderlich. Das Mischungsverhältnis hat hingegen keinen signifikanten Einfluss auf Raumgewicht und Härte.
Ein großer Vorteil von Silikonsystemen ist die hohe Temperaturbeständigkeit, die zwischen - 60 °C und + 200 °C liegt, kurzzeitig sogar bei + 300 °C. Die Temperaturbeständigkeit von Polyurethansystemen liegt bei - 40 °C und + 90 °C, kurzzeitig bis zu + 140 °C.
Silikon sowie Polyurethan haben eine sehr geringe Wasseraufnahme, eine sehr gute Chemikalienbeständigkeit und haften innerhalb kürzester Zeit.
Eingesetzt werden die leistungsstarken Systeme sowohl im Bereich Automotive als auch in Schaltschränken, Haushaltswaren, der Leuchtenindustrie, Medizintechnik u. v. m.
Der Unterschied von Polyurethan und Epoxidharz sowie Silikonsystemen im Bereich Elektrogießharze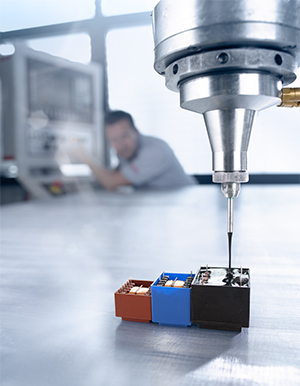 Elektrogießharze auf Basis von Polyurethan (RAKU® PUR), Silikon (RAKU® SIL) und Epoxid (RAKU® POX) sind maßgebend für die Weiterentwicklung der Elektromobilität.
Mit hohen thermischen, chemischen und mechanischen Beständigkeiten sowie dem zuverlässigen und effektiven Schutz vor Umwelteinflüssen gewährleisten Elektrogießharze die optimale und langfristige Funktionsfähigkeit empfindlicher elektronischer Bauteile.
Die Haftungsleistung im Bereich Verguss ähnelt der bei Dichtungsschäumen:
Polyurethan weist eine gute Haftung auf Gehäusen und Bauteilen auf, im speziellen auf Kunststoff (PA, PBT, ABS)
Epoxidharze punkten durch die gute Haftung auf Metallen
Silikon bietet eine gute Haftung auf mineralischen Untergründen; bei anderen Substraten ist, wie bei Dichtungsschäumen, oftmals eine Vorbehandlung notwendig
Der Temperatureinsatzbereich von Polyurethan liegt bei - 60 °C bis +155 °C, kurzzeitig bei +160 °C. Epoxidsysteme liegen bei - 40 °C bis + 180 °C, kurzzeitig bei + 200 °C. Auch hier liegen Silikonsystemen wieder an der Spitze mit Werten von - 60 °C bis + 200 °C, kurzzeitig bis + 300 °C.
Beim Verguss kommt es zudem auf gute elektrische Eigenschaften, gute mechanische Werte und eine hohe Wärmeleit- und Wärmeformbeständigkeit an. Diese Faktoren müssen bei der Materialauswahl ebenfalls berücksichtigt werden.
Material und Maschine aus einer Hand
"Sowohl bei der Materialauswahl als auch dem Produktionsprozess sollten Materialhersteller ihre Kunden umfassend beraten und betreuen", so Frank Birkelbach, Leiter Vertrieb und Marketing bei RAMPF Polymer Solutions. "Unsere Experten stehen unseren Kunden mit Rat und Tat zur Seite. Dabei können wir auf Erfahrungen aus über 35 Jahren Entwicklung und Herstellung maßgeschneiderter Polyurethan- und Silikonsysteme sowie Epoxidharze zum Dichten, Vergießen und Kleben zurückgreifen."
Indes sind die besten Kunststoffsysteme nichts wert, wenn sie nicht präzise verarbeitet werden: "Misch- und Dosiertechnik sowie Material müssen perfekt aufeinander abgestimmt sein", weiß Martin Hämmerle, Leiter Anwendungstechnik bei RAMPF Polymer Solutions. "Hier arbeiten wir sehr eng mit unseren Kollegen von RAMPF Production Systems zusammen – nicht nur im Bereich Misch- und Dosieranlagen, sondern auch bei Automatisierungslösungen."