Are you using a smartphone to visit our website? Or did you come to the office by car (or bus, tram, or train) this morning? If so, you know us already, as you come into contact on a daily basis
with products containing RAMPF technology. While they are only rarely visible, nothing would work without them. That's as true today as in the past.
Vision
The history of the RAMPF Group is a gripping tale of inventive spirit – you couldn't make it up if you tried! Company founder Rudolf Rampf had entrepreneurial courage, creative ideas, and a quite unique tenacity that still shapes the nature of the company. We at RAMPF are pioneers, lateral thinkers, and idea generators. In line with our claim of "Discover the future", we have a lot planned – in the form of even more customized solutions for our customers and partners!
Facts and numbers
We are represented worldwide with more than 900 employees at 12 sites. In the United States, Canada, Germany, Japan, China, and Korea we even have our own production facilities.
You can also find our service and sales partners on almost every continent.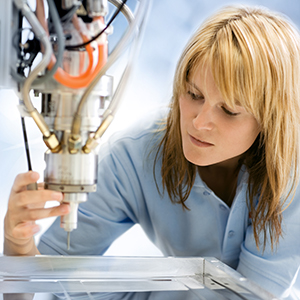 RAMPF Group Inc.
RAMPF Group, Inc. was established as a development and production center in 2003 to attain a leading position in the NAFTA market with reactive resins and to be on-site for our customers. Our constant growth is also confirmed by the now three locations in North America which are supporting our goals.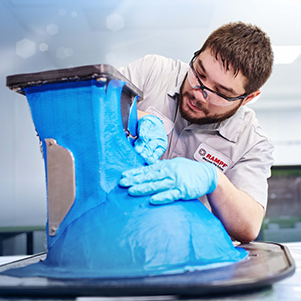 RAMPF Composite Solutions
In 2016 RAMPF acquired the Canadian company APEX Composites and integrates it into the Group as the new core competence RAMPF Composite Solutions. With this aquisition the RAMPF Group takes another major step towards the expansion of our product range and our consistent international development.
"Why work at the Wixom site?"
Wixom, MI, is both an industrially advanced city and also close to parks, lakes, and other recreational areas. It is home to approx. 14,000 people and several production and manufacturing businesses. Wixom, which is close to the heart of Detroit, ranks in the upper quartile of the diversity index when compared to the other cities in Michigan. At present, an encompassing project is underway to enhance the downtown area of the city, further promoting cultural, business, and recreational opportunities.
"Why work at the Suwanee site?"
Suwanee, GA, is a city in Gwinnett County with a population of approx. 20,000. Located on Interstate 85, the city offers easy access to the downtown Atlanta area, a major center of commerce in the South. In the midst of strong economic growth, Suwanee maintains its small town feel with a diverse range of fine restaurants, cultural amenities, and shopping malls. Sports is a major component to Suwanee's identity with many clubs and professional sporting events. The breathtaking landscapes of the North Georgia Mountains are a popular destination.
"Why work at the Burlington site?"
Strategically located in the west of the Greater Toronto Area (GTA), Burlington is home to 183,000 inhabitants. In 2017, Ontario was named the best mid-sized city in Canada for its great structure. Situated in the heart of the Golden horseshoe and close to the U.S. border, Burlington attracts various national and international business activities. The city is prosperous and friendly with world-class urban amenities and some of Ontario's top festivals. The parks and parklands on the shore of Lake Ontario offer numerous waterfront activities.
"Why work at the St. Johns site?"
RAMPF's site in St. Johns, MI, is set in a lovely small, rural town in Clinton County. It is home to many manufacturers of a wide variety of products and known as the Mint Capital of the United States, as the majority of the country's supply of spearmint is grown here. St. Johns is conveniently located on the US-27, a major north-south highway, which makes travel to other parts of the state easy to do. Another plus factor is the vicinity to Michigan's Capitol, Lansing, where one can enjoy fine restaurants, theaters, museums, or visit the renowned Library of Michigan.
2017 - 2018
Further expansion
At Wixom, MI a new Research and Development Laboratory has been built and the production facilities for Mineral Casting have been established.
2016
RAMPF Composite Solutions - the new core competence
RAMPF aquires the Canadian company APEX Composites a leading expert in the design, engineering, and manufacture of composites parts, and integrates it into the Group as the sixth core competence: RAMPF Composite Solutions.
Innovative Polymers, Inc. becomes part of the US subsidiary RAMPF Group, Inc. and a new plant is built for further expansion in Wixom.

2012 - 2014
Business succession and further expansion
RAMPF Group, Inc. opened a new facility in Atlanta, Georgia, close to the automotive industry in the south-east of the USA.
We started with Close Contour Casting and moved again into a new facility with more space across town in Wixom.

2008 - 2009
Establishing the market leadership within the field of foam gaskets
RAMPF Group starts their own production of foam gaskets out of polyurethane and takes over the Form-In-Place-Gasketing Division of Chemque Inc.
2003 - 2006
Foundation of RAMPF Group Inc.
In June 2003 RAMPF goes abroad with the foundation of RAMPF Group, Inc. located in Holland, Ohio.
2004 RAMPF Group moved to Wixom, Michigan and expands 2006 in to a 30.000 sqft facility.
Our employees have the opportunity to develop ideas and bring them to market maturity.
This exceptional innovative strength is a key pillar of our success.