Better and Faster Customer Service
08/26/21
Career
Adhesives
Electro Casting Resins
Liquid Systems
Engineering Casting Resins
Sealing Systems
The cloud-based customer and service portal "Project Cockpit" from RAMPF Production Systems provides all the relevant information on machines and systems centrally on one platform and in real time. This has significantly increased the efficiency of project management.
Customer satisfaction and customer service have the highest priority at RAMPF Production Systems. To this effect, the redesigned customer portal Project Cockpit complements the extensive range of services provided by the automation specialist based in Zimmern ob Rottweil, Germany.
Customers are offered a convenient 24-hour service for machines that are already in operation as well as those under construction. With this tool, RAMPF Production Systems is setting new standards in digitalized services for the automation industry.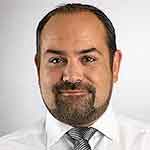 Stefan Huber, Director of Project Management at RAMPF Production Systems:
With our customer portal, we offer even better and faster customer service worldwide. In addition, time-consuming Excel lists are a thing of the past.
The portal programmed by service provider Kontron is a perfect interface to the customer and shows all relevant information and processes at a glance. In addition, the cloud solution acts as a central storage location for machine master data, status reports, and documentation.
Moreover, training courses, maintenance contracts, modifications, and repairs are also booked here; a fully automated ordering process for spare parts is also planned. The construction progress of a new machine or adjustments to existing machines are monitored, and a convenient reminder function informs of deadlines and tasks on the customer and supplier side.
Project management is very transparent and thus sets clear guidelines for all those involved, allowing them to bridge the rather long delivery times of the systems that are brought about by their intricate design and construction.
Increasing service quality
With the commissioning of their new machine, RAMPF customers have already made significant inroads into Project Cockpit. They can now make use of its extensive service area, which becomes relevant when the machine starts production.
The portal can be accessed via PC/laptop or directly at the machine using a smartphone and QR code. This way, quick access is guaranteed in the event of a service assignment. Machine documentation, plans, and manuals can be uploaded at any time. If necessary, a RAMPF service technician can be connected live to assist with problem solving.
Detailed technical information on the machine, paired with the high flexibility of the RAMPF service team, prevents long downtimes for customers. In many cases, it also eliminates the need for a service visit by a technician, which in turn helps to save time and money.
Many internal processes at RAMPF Production Systems have already been accelerated or even made redundant. The intuitive customer portal is used for almost all projects and is to be further expanded, especially for training purposes.
RAMPF expertise via online training courses and service videos
The growing relevance of digitalization – and limited travel activities due to the corona pandemic – have meant that some service calls by RAMPF technicians simply had to be dealt with via Project Cockpit. However, live training courses on the handling and maintenance of RAMPF dispensing systems are being planned for the future. These give customers the opportunity to convey valuable expert knowledge to their employees in their own company, which will increase their competence in the field of dispensing and automation technology in an effective and cost-effective way.
Despite the physical distance to the trainer, practical examples are included that can be directly carried out using the "training kits" rented in advance by RAMPF. An online test determines if the newly acquired knowledge has been understood; if this is the case, the participants receive a certificate.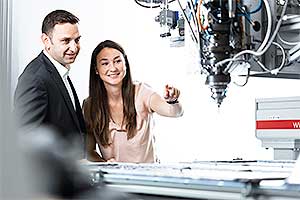 RAMPF trainees illustrate how maintenance works
Detailed videos in which RAMPF trainees carry out maintenance work on dispensing machines are also part of the service offering of Project Cockpit. The prospective mechatronics engineers provide information in a friendly and concise manner about the necessary steps, required tools and spare parts, so that customers themselves can work on the high-tech RAMPF dispensing technology.
Poor WiFi connection, inadequate IT infrastructure, or a lack of digital affinity sometimes represent hurdles when using Project Cockpit. This is, of course, being taken into account – RAMPF Production Systems also addresses customers who prefer analog technologies. Paper versions of technical details about the machine, maintenance plans, and service forms will continue to be provided; this is also important as a backup in the event of IT problems.
Every machine that is delivered from Zimmern ob Rottweil is also equipped with USB stick, which contains both information on the machine and templates that can be filled out and sent to the experts at RAMPF Production Systems.