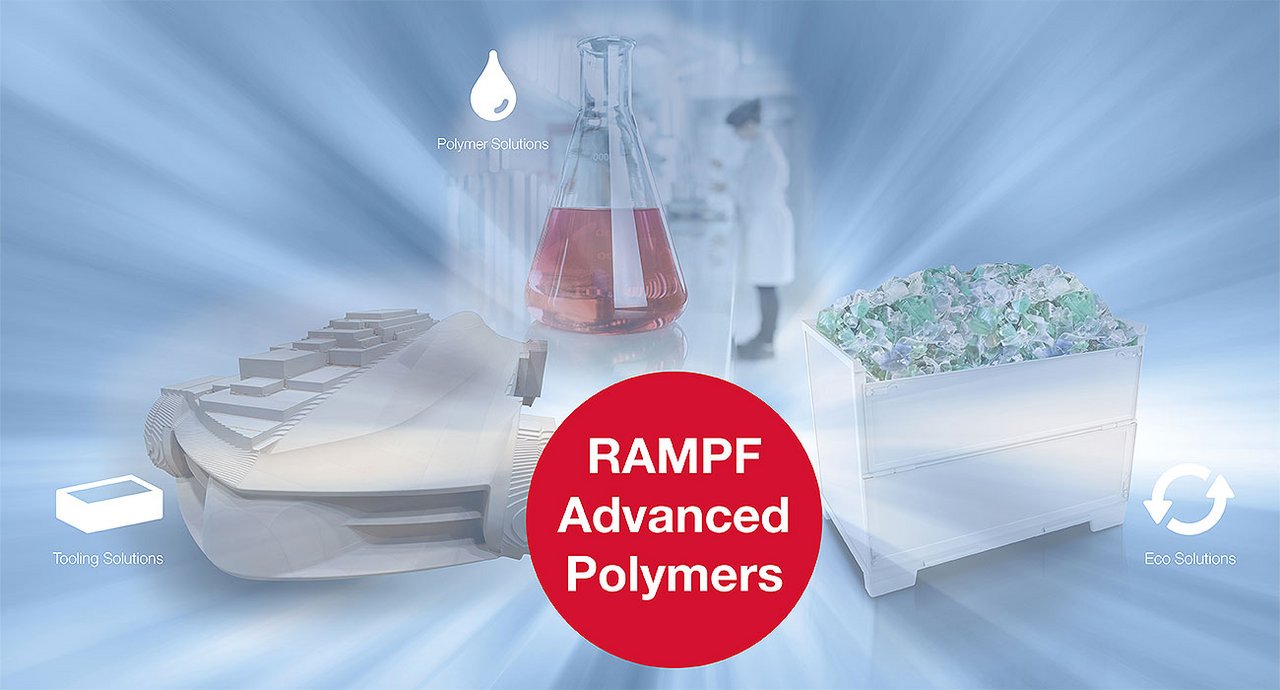 RAMPF to Establish New Company – RAMPF Advanced Polymers
Grafenberg, Germany,
08/01/23.
The international RAMPF Group is establishing a new company at the start of the forthcoming financial year on July 1, 2024 – RAMPF Advanced Polymers GmbH & Co. KG.
The company will combine the core competences of RAMPF Eco Solutions, RAMPF Polymer Solutions, and RAMPF Tooling Solutions to create a new entity that is even more strongly focused on sustainability.
Merging the three sets of core competencies centered around polymers will create a company with approximately 220 employees and a consolidated total operating performance of over EUR 100 million. The new company will:
Pool the Group's unique expertise in the formulation of chemical solutions and leverage enormous synergy effects with regard to product development, product portfolio, and services.
Significantly boost the sustainability of the product range, as larger financial capacities will ensure the Eco Solutions recycling sector can be substantially extended.
Considerably strengthen the market position and competitiveness of the entire RAMPF Group.
RAMPF Advanced Polymers will offer all the products and solutions of RAMPF Eco Solutions, RAMPF Polymer Solutions, and RAMPF Tooling Solutions:
Eco Solutions – chemical solutions for manufacturing customized recycled polyols from polyurethane and PET waste materials as well as bio-based / renewable raw materials.
Polymer Solutions – sealing systems, electro and engineering casting resins, edge and filter casting systems, and adhesives based on polyurethane, epoxy, and silicone.
Tooling Solutions – board and liquid materials for modeling and mold engineering based on polyurethane and epoxy.
Michael Rampf, CEO of the RAMPF Group:
The establishment of RAMPF Advanced Polymers is a milestone in the history of our Group, which stretches back more than 40 years. We made this decision from a position of strength, after a very successful financial year 2022/2023. By pooling our strengths and talents, we will develop even better chemical products and solutions and manufacture them in cutting-edge facilities. This will enable us to provide our customers and partners with even better support in asserting themselves in increasingly competitive sectors such as the automotive, electric/electronics, and aerospace industries.
Matthias Rampf, CEO of the RAMPF Group:
With RAMPF Advanced Polymers we are strengthening our position with regard to the financing of investments. We see huge potential in Eco Solutions, whose chemical recycling solutions are encountering ever greater demand. We will consistently carry forward this pioneering closed-loop approach and enable our customers to further optimize the ecological footprint of their products. As a company, we see both considerable commercial potential and an opportunity to play an even bigger part in conserving finite resources and reducing CO2 emissions across a broad swathe of industries.
RAMPF Advanced Polymers is to be led by Peter Barwitzki and Dr. Christian Weber, the current CEOs of RAMPF Polymer Solutions. With immediate effect and until July 1, 2024, when the new company officially commences operation, both RAMPF Eco Solutions and RAMPF Tooling Solutions will temporarily be led by Peter Barwitzki and Christian Weber. Jochen Reiff, CEO of RAMPF Tooling Solutions, left the Group by mutual agreement on July 31, 2023.
The headquarters of RAMPF Advanced Polymers will be in Grafenberg. The Eco Solutions unit will continue to be based in Pirmasens, which is the current base of RAMPF Eco Solutions. The establishment of the new company will not affect the other companies in the Group.