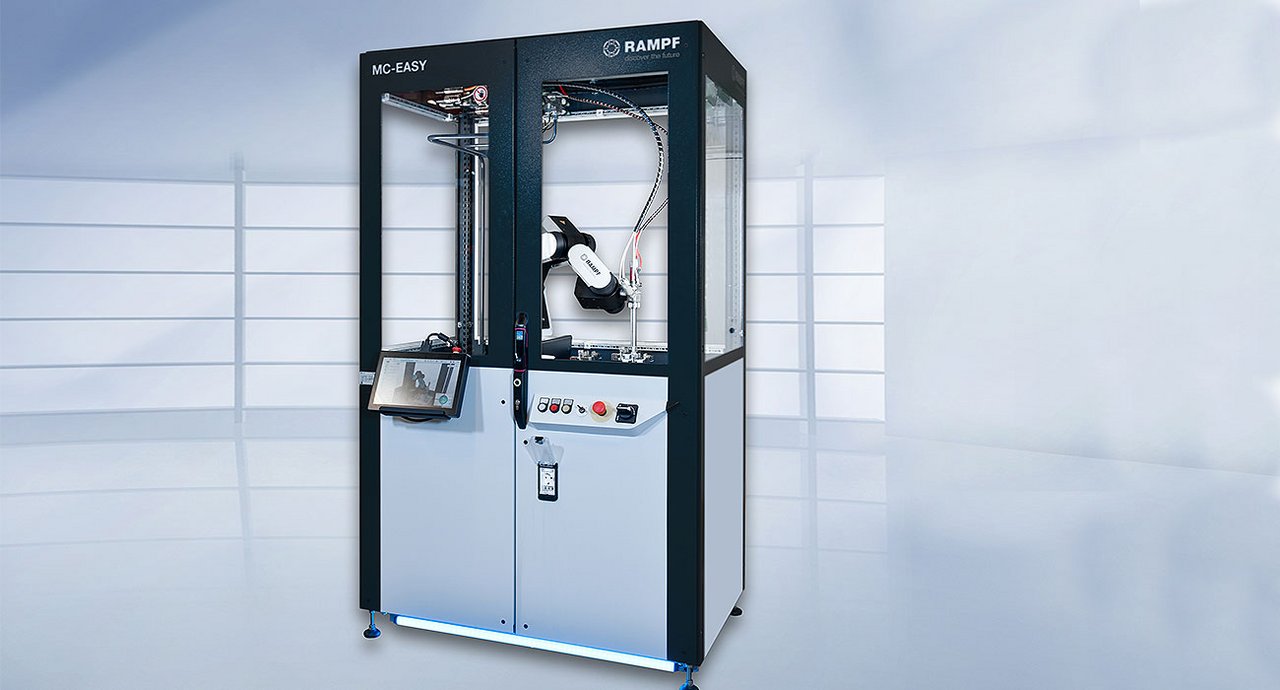 Compact, Flexible & Cost-Effective – RAMPF's New Multipurpose Cell MC-EASY
Zimmern ob Rottweil, Germany,
10/20/23.
With its new MC-EASY Multipurpose Cell, RAMPF Production Systems presents a flexible, compact, and cost-effective concept for gap filler and casting applications in the automotive, electrical/electronics, power engineering, and white goods industries. In addition, the standard MC model has been upgraded and now offers even greater versatility.
The MC-EASY Multipurpose Cell is a cost-effective solution for mixing and dispensing gap fillers and casting materials. The compact cell concept is available as a stand-alone solution but can also be effortlessly integrated into existing production lines. Thanks to its practical plug & play concept the MC-EASY allows for significant time savings both during set-up and commissioning.
The material tanks for the components are located in the cell and can be filled either manually or automatically from hobbocks or 200-liter containers. A static mixing system ensures the reliable mixing of two-component materials, whilst the dispensing control is handled by a high-performance Beckhoff system.
The MC-EASY Multipurpose Cell is equipped with a robot with a maximum payload of 3 kg and a reach of around 600 mm. No prior knowledge is required for the simplified robot programming. Component handling can be performed manually or by means of belt integration.
Upgrade of standard model for more flexibility
The standard model of the MC Multipurpose Cell was first introduced in 2021. It combines dispensing, joining, and testing technology in a single compact cell. Customers have a choice of several cell sizes with different widths and depths for the fully or semi-automated integration of specific sealing, casting, and bonding technology.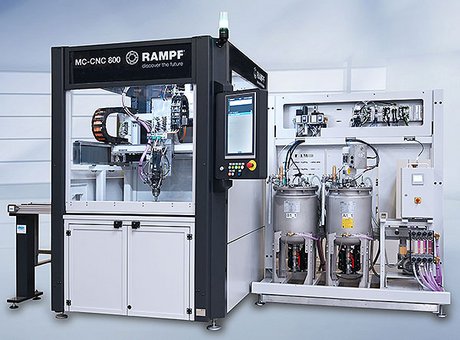 This model has been upgraded and now offers even more flexibility. Alexander Huttenlocher, Director of Sales & Marketing at RAMPF Production Systems:
The basic structure of the cell has been redesigned with a welding frame, which has significantly increased the flexibility of a wide range of built-in solutions and secondary processes. These include a 3-axis system, 6-axis robots, plasma pretreatment, belt systems, and assembly applications.
RAMPF.forum 2023 – inspirational and effective
The new machines were presented yesterday, October 19, as part of the RAMPF.forum 2023 event. Leading dispensing technology and automation experts met at the headquarters of RAMPF Production Systems in Zimmern ob Rottweil, Germany, to drive ahead the electric mobility revolution by further developing the fully automated sealing, casting, and bonding of batteries, fuel cells, and lightweight components.
Dr. Rüdiger Brockmann, CEO of RAMPF Production Systems:
The captivating presentations and in-depth exchanges were inspiring as well as effective in terms of the development of new solutions. In events like this we pool our innovative forces to successfully shape the future of mobility. Many thanks to all participants for their contribution!