Produced in Asia. For Asia.
RAMPF has realigned the cooperation with its long-standing partner Orient Dosiertechnik from Korea: From now on, the joint venture RAMPF Korea Co., Ltd. will actively produce mixing and dispensing systems developed especially for the Asian markets. With an experienced local innovator as managing director and high-performance technology from Germany, the new company is more than good to go.
"20 years ago, I was a reckless explorer, entering paths that were then unpaved. And that was the right thing to do, because otherwise I would not be in the place where I am and want to be today."
It is not surprising that the author of this quote, Yonny Eom, Managing Director of RAMPF Korea, and RAMPF company founder Rudolf Rampf immediately got along very well when they met for the first time about 20 years ago.
Exploring new paths, not shying away from expressing their thoughts and opinions, and always focusing on the added value for the customer: that was common to both pioneers. And this is also the main focus of the collaboration between RAMPF and Orient Dosiertechnik, which was founded by Yonny Eom, that is now further strengthened with the joint venture.
It is therefore quite fitting that the mission statements of the two partner companies fit perfectly together: "Excite Your Mind" and "Discover the Future".
Tailored for the Asian markets
Until now, Orient Dosiertechnik has acted as a sales and service partner of RAMPF Production Systems, the specialist for innovative production systems with integrated dispensing technology based in Zimmern o. R., Germany. However, automation projects have already been carried out sporadically in which dispensing technology from RAMPF was integrated.
Within the framework of the joint venture, mixing & dispensing systems based on components from Germany will now be developed and produced specifically for the Asian markets – true to the motto "Produced in Asia for Asia".
Standard mixing & dispensing systems will predominantly be used, especially the dispensing robot DR-CNC, which is offered in the markets in Asia and the Middle East under the type designation DR-CNCe. Higher competitiveness, reduced delivery time "With the founding of RAMPF Korea, we will offer our customers in Asia even better, faster, and more efficient service", Hartmut Storz, Managing Director of RAMPF Production Systems, points out. "This will increase our competitiveness and reduce delivery time."
Hartmut Storz sees Yonny Eom as a decisive "success factor" of the joint venture: "Yonny has a great deal of experience and specialist knowledge. He can there offer products perfectly tailored to the needs of his customers. In addition, he is a lateral thinker who looks outside the box to discover new solutions."
That being said, Yonny Eom is very much looking forward to the closer cooperation with his German partners: "Our companies have grown together very strongly over the past few years, colleagues have become friends. Together with my motivated and highly talented team, we will make RAMPF Korea a success story."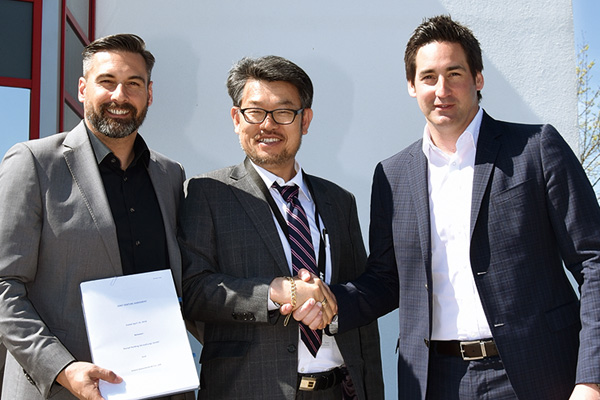 Orient Dosiertechnik
Orient Dosiertechnik group was founded in 1999 and has more than 100 employees, nearly half of whom are service technicians. The company's annual revenue in 2017 was US $ 17.4 million. Orient Dosiertechnik has five companies: one
in Korea (Suwon City), three in China (Suzhou, Chongqing, Beijing), and one in Hong Kong. In addition to the sales and after-sales service of RAMPF Production Systems, the company also sells the polyurethane products produced by RAMPF China.